Previous Image | Next Image | Who's Who Home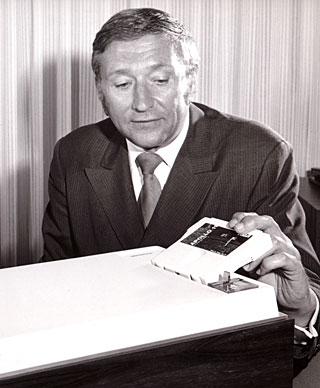 Thomas McDermott
Thomas McDermott was working at the Benton & Bowles ad agency in 1959 when he was hired by actor Dick Powell to be Executive Vice President of Production at Four Star International, his television production and distribution company. Following Powell's death in January 1963, McDermott took charge of Four Star, but the firm gradually declined and was sold in 1967. Because of his inside knowledge of the entertainment industry, Thomas McDermott was approached by RCA in 1970 to become SelectaVision programming coordinator. Upon being hired, McDermott assumed the mock-up Holotape player he is posing with in the above photo would soon be on the market, but in fact, the hardware was far from ready for market introduction.

He negotiated with Henry Moore and Arnold Palmer to make how-to films and he inquired about licensing Walter Reade documentaries and Charlie Chaplin films. But these efforts were side-lined in 1972 with RCA's costly computer write-off and abandonment of the HoloTape project. At that time he made efforts to secure programming for MagTape but that project was likewise abandoned in 1974. At that time, McDermott jumped to the VideoDisc program and accompanied a group of RCA employees on a road show to Japan in November 1974. This road show to sell Japanese companies on CED technology proved to be a difficult one, as RCA was still using metallized discs and sapphire styli. Having already encountered hardware difficulties with Holotape and MagTape, a chagrined McDermott commented to his staff after the road show that 50 styli had broken and 300 discs had been required to show only a few segments of decent video. These problem were eventually solved with the conductive disc and diamond stylus, but by then Thomas McDermott had left RCA. Herbert Schlosser became the RCA executive in charge of programming for the market introduction of the CED system.

Thomas McDermott appeared in some publicity photos for the RCA SelectaVision Holotape system. One picture appears at the top of this page. Other RCA employees who appeared in Holotape publicity photos include Robert Bartolini, Robert Bitting, Charles Carroll, William Hannan, and Ashley Rhodes.

If you have some additional information to supply on Tom McDermott, feel free to submit the form below, so your comments can be added to this page.
---
Send your comments in email via the Contact page
---
Previous Image | Next Image | Who's Who | Memories | CED Magic Home