Previous Image | Next Image | Slide Show Index | CED Magic Home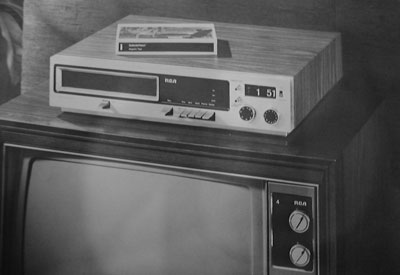 1973: RCA SelectaVision MagTape Prototype VCR
RCA began development of a consumer magnetic video tape recorder in 1970 when it appeared the company's HoloTape would take longer to develop than expected. In 1971 RCA partnered with Bell & Howell to produce the system's scanner and tape transport mechanism. Brochures showing photos of mock-ups were distributed in 1973. Some of the features mentioned in these brochures were:
In-Cartridge Scanning
Full-Frame Color Playback and Recording
VHF/UHF Tuners for Recording One Program While Watching Another
Automatic Tension Control Permitting Operation with Unmodified Conventional TV Receiver
Timer for Unattended Recording
Camera Input Connector
Drop-Out Compensation
Stereo Sound Output
The most striking thing about these mock-ups is their surprising modern appearance in comparison to the production Sony Betamax SL-7200 and RCA VHS VBT200 that hit the market in 1976 and 1977 respectively. The front-loading RCA MagTape mock-up looks more like a 1983 vintage VCR than a unit designed 10 years earlier. The only hints to its age are the rotary tuning knobs and the mechanical digital clock.
RCA did field test 200 MagTape units in Indianapolis early in 1974, but development of the system was abandoned in October 1974. William Hittinger, RCA's Executive Vice President in charge of Electronic Business, stated that MagTape could not achieve the necessary performance at the required level of cost to be profitable. This was a boost to CED, as more corporate resources became available to it, and dropping MagTape was viewed favorably by the press at the time. But years later, after RCA began purchasing VHS VCR's from Matsushita, the press bemoaned the fact that RCA had failed to market their own VCR system of American origin.
Previous Image | Next Image | Slide Show Index | CED Magic Home