Previous Image | Next Image | Who's Who Home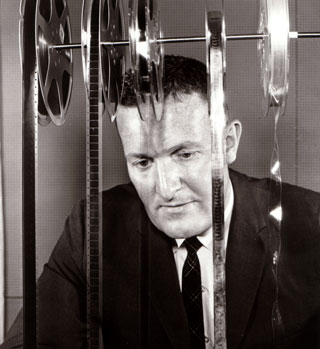 William J. Hannan
William Hannan was not directly involved with VideoDisc, but he was Group Head of the concurrent SelectaVision Holotape project, which used holography to store video on reels of plastic film. A chapter about this project appears in the book RCA and the VideoDisc and some members of the Holotape team transferred to CED when Holotape was canceled in June 1972. In the above photo William Hannan examines the five steps involved in the manufacture of a finished Holotape; from left to right: photographic film, photoresist film, hologram master, nickel master, and finished holotape.
---
W. J. Hannan served in the U.S. Navy from 1946 to 1948 as an Aviation Radioman. He graduated from the RCA Institutes in 1951 and was hired by RCA. He received his B.S. in E.E. from Drexel Institute in 1954. He obtained the M.S. in E.E. from the Polytechnic Institute of Brooklyn in 1955, after which he continued graduate studies for another year. At RCA, Mr. Hannan has contributed to the design and development of closed circuit television systems, transistorized television circuits, frequency-shift-keyed and phase-shift-keyed receivers, ground equipment for processing data from a satellite. He taught a transistor circuit theory course at RCA and Rutgers University. He has also contributed to study programs for the application of television to missile tracking, for analysis of digital communication systems, and for improving the jamming immunity of military communication systems.
- RCA 1961 Company Biography

William J. Hannan received the BSEE from Drexel Institute in 1954 and the MSEE from the Polytechnic Institute of Brooklyn in 1955. From 1951 to 1956 he worked in RCA's Industrial Products Division where he contributed to the design of RCA's industrial television systems and the "Walkie Lookie", the first man-portable television station. From 1956 to 1966, he worked in the Applied Research Section of RCA's Defense Electronic Products Division. In 1959 he was promoted to Group Leader and spent the following seven years working mainly on laser systems. His group was responsible for developing the first room-temperature injection-laser communication system NASA's first sun-pumped laser, one of the early electro-optic reading machines, and the first laser transmitter sent into space. He developed the first laser cane for the blind and received an IR 100 award for this effort in 1967. Since 1966 he has been a Group Head at RCA Laboratories, working in the field of holography. In 1970 he received an RCA Achievement Award for his holographic research and in 1972 his research group received the David Sarnoff Outstanding Team Award in Science for the development of a holographic prerecorded video system. He is a senior member of the IEEE and a member of the OSA.
- RCA 1972 Company Biography

William Hannan appeared in a publicity photo for the RCA SelectaVision Holotape system in the December 1969 issue of Popular Science magazine. This picture appears at the top of this page. Other RCA employees who appeared in Holotape publicity photos include Robert Bartolini, Robert Bitting, Charles Carroll, Thomas McDermott, and Ashley Rhodes.

Search for patents issued to William James Hannan.

If you have some additional information to supply on Bill Hannan, feel free to submit the form below, so your comments can be added to this page.
---
Send your comments in email via the Contact page
---
Previous Image | Next Image | Who's Who | Memories | CED Magic Home