Previous Image | Next Image | Who's Who Home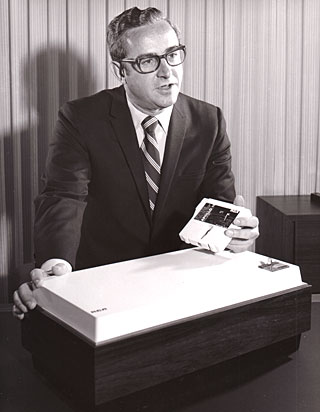 Robert C. Bitting
Robert Bitting began his career at RCA as a television engineer in the Camden, N.J. plant. He later worked on the Ballistic Missile Early Warning System (BMEWS) and the Minuteman Missile program, followed by a year as a Sloan Fellow at the MIT Sloan School. In 1969, he was working in New York in corporate planning and capital budgeting when Chase Morsey selected him to head a videoplayer venture group with Holotape initially being the primary focus of the group. Robert Bitting appears in the above photo with a mock-up Holotape player and "Apollo 11" tape cartridge.

In 1970, the focus of the venture group was broadened to include Holotape, Magtape, and VideoDisc, and Thomas McDermott was hired as programming coordinator. Following RCA's disastrous withdrawl from the mainframe computer market, corporate funding for the SelectaVision venture group was reduced in 1972. Robert Bitting continued to head SelectaVision Business Development, but it was now part of the Consumer Electronics Division, and he reported to Barton Kruezer in Indianapolis. With the transfer to Indianapolis MagTape became the focus of the group with a late 1973 market introduction being hoped for. But the disarray associated with the transfer caused some members to leave or be transferred to other activities, including Robert Bitting himself, who left RCA in March 1973. William Hittinger, who had succeeded Barton Kreuzer as head of the Consumer Electronics Division, selected Gordon Bricker to succeed him. In October 1974 Hittinger announced that RCA was abandoning further development of the MagTape system, leaving only VideoDisc as the surviving SelectaVision product. Shortly thereafter Richard Sonnenfeldt was selected as Staff Vice President in charge of VideoDisc and Gordon Bricker became a member of his staff.
---
Robert Bitting appeared in some publicity photos for the RCA SelectaVision Holotape system. One picture appears at the top of this page. Other RCA employees who appeared in Holotape publicity photos include Robert Bartolini, Charles Carroll, William Hannan, Thomas McDermott, and Ashley Rhodes.

Search for patents issued to Robert Bitting.

If you have some additional information to supply on Robert Bitting, feel free to submit the form below, so your comments can be added to this page.
---
Send your comments in email via the Contact page
---
Previous Image | Next Image | Who's Who | Memories | CED Magic Home