Previous Image | Next Image | Slide Show Index | CED Magic Home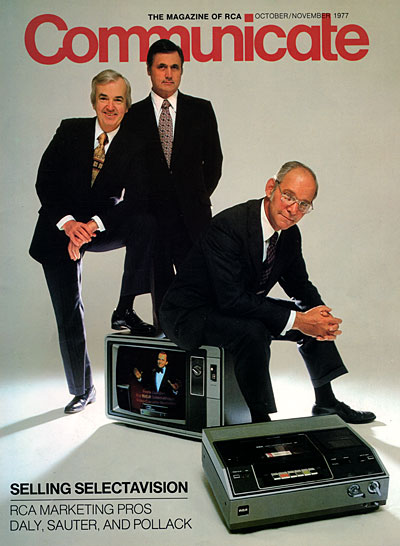 1977: The First VHS VCR is Introduced in the U.S.
The VBT200, the first retail SelectaVision product, was the first VHS Video Cassette Recorder marketed in the United States. RCA announced the VBT200 VCR on August 23, 1977, and from that date until it went on sale in October, the company had a road show demonstrating VHS to the technology press and RCA dealers. The above picture shows marketing executives Dave Daly, Jack Sauter, and Roy Pollack on the cover of the bimonthly RCA magazine Communicate with the VBT200 in the foreground.
One of the more prominent of these briefings took place at the World Trade Center Twin Towers in New York City. The reason the conference was held in the World Trade Center became apparent when George Willig appeared on the podium with Jack Sauter and "Today Show" host Tom Brokaw. Also called "The Human Fly," Willig had recently scaled the sheer face of the South Tower using an invention that took advantage of the grooves used for window washing equipment. Upon reaching the top after about 4 hours he was arrested and fined $250,000 by the city. But he became an instant folk hero, and in a public relations move, the fine was lowered to $1.10, a penny for each floor of the building.
On the podium, Brokaw explained that the "Today Show" had been following Willig's climb live and went on taping it even after the show went off the air. Brokaw then handed Jack Sauter four bulky NBC studio tapes, each an hour long. Sauter produced from his jacket pocket a SelectaVision videotape cassette, slightly smaller in size than a paperback book, and gave it to Brokaw, who handed it to Willig.
Sauter then stated, "This one small cassette, which we recorded on a SelectaVision unit in Indianapolis, holds as much as the studio-made cassettes you just handed me - four hours."
Hence the memorable marketing slogan "Four hours, $1,000, SelectaVision."
Despite being two years behind Betamax in the marketplace, VHS soon surpassed the Sony system in sales due to the lower price of the VCR ($1000 vs. $1300) and the longer record time (4 hours vs. 2 hours). Despite the technical superiority of Beta, it was eventually completely trounced by VHS.
RCA also produced a retail site VCR Kiosk for the VBT200, somewhat similar to the CED Kiosk introduced with the SelectaVision VideoDisc system in 1981.
Previous Image | Next Image | Slide Show Index | CED Magic Home