Previous Image | Next Image | Who's Who Home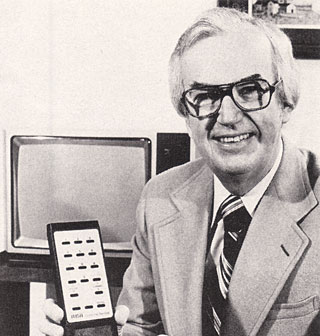 David E. Daly
David Daly was Vice President, Product Planning for RCA Consumer Electronics when SelectaVision VHS was introduced in 1977. He continued in this role until the 1981 introduction of the SelectaVision CED system, but was more involved with the television and VCR market than with the VideoDisc market. He is shown above in 1980 holding up the 17 -button CRK27A television infrared remote control, a sophisticated unit for its time.

Dave Daly and his wife Patt were among the hosts for the "Aloha Conference" held in February-March 1984 at the Kona Surf Hotel on the Big Island of Hawaii for RCA VideoDisc dealers with outstanding 1983 player sales.

See Dave Daly on the cover of the Oct/Nov 1977 issue of RCA Communicate magazine.

If you have some additional information to supply on Dave Daly, feel free to submit the form below, so your comments can be added to this page.
---
Send your comments in email via the Contact page
---
Previous Image | Next Image | Who's Who | Memories | CED Magic Home