Previous Image | Next Image | Memories Home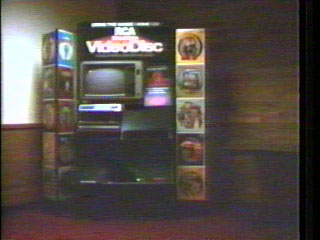 VideoDisc Kiosk from 1981 CED Introduction
The TV set shown in the kiosk photo is not the one RCA recommended for CED player demonstrations. The "correct" models were either FER485W (manual control) or FER488WR (remote control), both of which had just been introduced to the mass market in fall 1980, using the CTC101 chassis with a CCD comb filter (the CCD comb was originally designed for the CED project, since a wideband comb filter was needed to implement the buried-subcarrier encoding system).

This kiosk was actually replaced after a year by a new one showcasing the stereo CED players. This one had dedicated spaces for a small stereo receiver and two bookshelf speakers -- both made available to dealers by RCA, but not offered to the public -- in addition to the player and 19" TV set.

RCA used these kiosks on several occasions in the 1960s through 1990s. The backboard (only) from one, for B&W portable TVs, can be seen in the movie "That Thing You Do!" which features a lot of other vintage point-of-purchase material. There was a special stand in 1977 for the VBT200 VCR, a 19" ColorTrak TV and a B&W vidicon camera. In 1978 there was a big display stand for six portable color TVs (13", 15" and 17" models with and without remote control).

The last display kiosk I know of from RCA was in 1994, for their DIRECTV satellite receivers; this one had a 31" TV and a laser disc player, the latter used for a special demonstration disc. All dealers who wanted to sell the satellite gear had to order this display *and* the specified TV and VideoDisc player, which left some of the dealers fuming. By contrast, when RCA introduced its first DVD Video players, they had only a modest sign to be placed on top of the player.
- Ed Ellers

If you know something about who or what is shown in the above image, feel free to submit the form below, so your caption and/or comments can be added to this page.
---
Send your comments in email via the Contact page
---
Previous Image | Next Image | Milestones | Memories | CED Magic Home