Previous Image | Next Image | Who's Who Home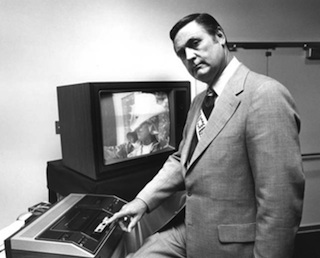 Jack K. Sauter
Jack Sauter graduated from UCLA with a BA in 1947. He joined RCA in 1950 as an advertising field representative. He later became sales manager of the RCA Victor Western Regional Operations. In 1957 he moved into the Division's sales development activity. Mr. Sauter was appointed manager of the RCA Sales Corporation's TV Sales, Planning and Development in November 1960. Four years later he was appointed a vice president of the RCA Sales Corporation. In 1966 he was named executive vice president of that RCA subsidiary. Mr. Sauter joined the Consumer Electronics Division in 1975. He served four years as division vice president for marketing and was one of the RCA executives in charge of the rollout of SelectaVision VHS in 1977. In January 1979 he was named division vice president and general manager and eight months later was elected vice president of the division. In February 1981 he was elected a group vice president and presided over many of the press announcements in the early days of the market introduction of the RCA VideoDisc system. He continued as Group Vice President, Consumer Electronics and Video Components until the dissolution of RCA Corporation in June 1986.
---
A native Californian (UCLA) who has settled in Maine and Florida, Jack Sauter has been a prominent figure in the consumer electronics industry for 35 years. While at RCA Consumer Electronics, Sauter served as group vice president, played a major role in the successful marketing of color television and, by committing RCA's resources to the videocassette recorder (VCR) in general, and the VHS format in particular, he was primarily responsible for that product's sales success. He joined RCA in 1950 as an advertising field representative and moved through various executive positions eventually supervising operations that generated more than $3 billion in sales. Sauter made sure consumers developed a buying interest in products featuring the newest technology. In the 1950's Sauter sparked demand for color television sets through promotions designed to get consumers into dealer's stores to view color demonstrations. In 1974, to keep sales growing despite color having already achieved a 74 percent saturation of U.S. television homes, Sauter had RCA run the industry's first nationwide "trade-in" program. The five-week program included a $2 million promotion in which dealers offered $50 to $100 for any old color set - working or not - to purchasers of its big 25-inch sets. Under Sauter's leadership RCA captured and maintained a position as the U.S. market's biggest selling brand of color televisions and VCRs.
- From the 2002 CEA Hall of Fame Inductee Page.

Consumer electronics industry veteran and former RCA executive Jack Sauter, 82, died August 7, 2007 in Ft. Myers, Fla. after a brief illness.
Sauter, who earned a B.A. from UCLA in 1947, first joined RCA in 1950 as an advertising field representative. A native of California, he moved to the RCA Sales Corp. in 1957 and in 1960 was appointed Manager, TV Sales Planning and Development. In 1964 Sauter was named Vice President, Product Planning Development and two years later, was elevated to the post of Executive Vice President, Sales Operations. He retired as Group Vice President in 1987.
Sauter's involvement in the consumer electronics business, on the product development and retail and distribution sides, spanned the advent and growth in popularity of TV as a widely available entertainment appliance that usurped radio, and continued well into the development of the VideoDisc player and VCR product categories.
He is survived by his wife, Sue, and by his daughters Lisa and Betsy, son Jeff and stepson Michael, as well as three grandchildren.
- Obituary from Dealerscope in 2007.

See Jack Sauter on the cover of the Oct/Nov 1977 issue of RCA Communicate magazine.

If you have some additional information to supply on Jack Sauter, feel free to submit the form below, so your comments can be added to this page.
---
Send your comments in email via the Contact page
---
Previous Image | Next Image | Who's Who | Memories | CED Magic Home