Previous Image | Next Image | Who's Who Home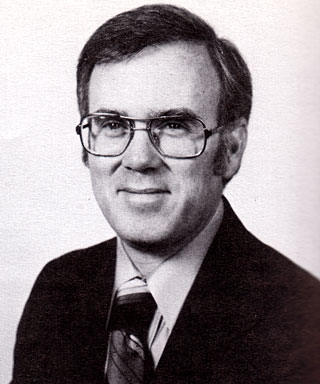 James A. D'Arcy
Jim D'Arcy, an electrical engineer at VideoDisc Operations, is currently assigned to the Disc Engineering activity as a Manufacturing Methods Engineer. He has worked on such projects as the MACS computer system and the signal system for the Player Technology Center. Prior to joining VideoDisc Operations in August 1979, he worked at RCA Astro-Electronics, Princeton for 16 years on such projects as the Space Shuttle CCTV system, the Landsat Satellite high-resolution TV cameras, and the Dielectric Tape Camera. Joining RCA in 1959, he worked in the Broadcast Division, Camden, for four years on such projects as the CCTV system of the Savannah, the first nuclear-powered merchant ship.
- RCA 1981 Company Biography

James A. D'Arcy, Senior Member of the Engineering Staff at RCA VideoDisc Operations in Indianapolis, Indiana, has been elected a Director of the Electrical Engineering Honor Society, Eta Kappa Nu. Founded in 1904 at the University of Illinois, Eta Kappa Nu today has a membership of about 150,000 of the top electrical engineering graduates with student chapters in 168 of the leading universities and colleges in the United States, four alumni chapters, and seven foreign branches (Chapters-At-Large).

During his professional career, Mr. D'Arcy has published several technical articles and has been involved in various technical societies and activities. He was active in the Young Engineers' Organization of the Engineers' Club of Philadelphia, serving in various offices, including President (1969-1970), and he received the Club's Outstanding Young Engineers' Award in 1967. Since 1974, he has been a member of the Eta Kappa Nu Award Organization Committee and has served as Chairman since 1979.

He was a member of the Engineering Excellence Committee of RCA Astro-Electronics for several years, serving as Chairman on two occasions. He was appointed a charter member of the Technical Excellence Committee of RCA VideoDisc Operation when it was being formed in 1980 and served as the first chairman of this committee in 1981.
- RCA 1984 Company Announcement

Currently (2003), Jim is working at the Lockheed Martin plant in Newtown, PA.
- anonymous

If you have some additional information to supply on James D'Arcy, feel free to submit the form below, so your comments can be added to this page.
---
Send your comments in email via the Contact page
---
Previous Image | Next Image | Who's Who | Memories | CED Magic Home