Previous Image | Next Image | Slide Show Index | CED Magic Home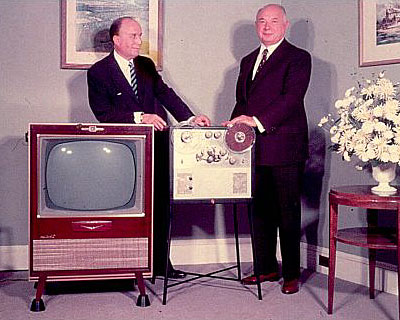 1956: RCA "Hear See" Videoplayer Presented to David Sarnoff
On September 27, 1951, RCA chief David Sarnoff celebrated the 45th anniversary of his start in the radio industry with ceremonies at RCA Laboratories. In a speech to the engineering staff, he suggested three technical innovations he would like to receive as birthday presents on his 50th anniversary, five years in the future:
A true amplifier of light
An all-electronic air conditioner
A television recorder to store programs on tape
When his 50th anniversary came around in 1956, Sarnoff didn't get the first two items, but he was presented with a prototype "Hear See" videoplayer by Harry Olson (at left above), director of the RCA Acoustics Laboratory. But this was a definite anticlimax, as Ampex a few months earlier had introduced a highly-successful commercial videotape recorder. RCA did eventually emerge as a major player in the home videotape player market with the introduction of the VBT200 in 1977. But this first VHS-format unit was based on technology licensed from Matsushita rather than developed in-house at RCA Laboratories. RCA's in-house MagTape consumer VCR had been abandoned in 1974.
Previous Image | Next Image | Slide Show Index | CED Magic Home