Previous Image | Next Image | Slide Show Index | CED Magic Home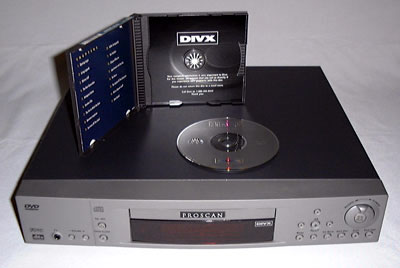 1998: DIVX the Pay-Per-View DVD System is Launched
Digital Video Express (DVE) launched their DIVX pay-per-view DVD system on October 1, 1998. Modem-equipped DIVX players had to be registered with DVE, and a fee was imposed for each viewing period of the DIVX discs, which could not be played on standard DVD players. The nature of this system sparked one of the first great internet consumer protests, which contributed to the rapid demise of DIVX.
Thomson Consumer Electronics (the modern incarnation of RCA) was there from the start, issuing a glowing press release on the system and their RC5230Z and Proscan PS8680Z (pictured above) DIVX/DVD players. A follow-up press release from DVE issued at the Consumer Electronics Show (CES) three months after launch on January 7, 1999 continued to paint a highly optimistic picture of the system. These releases are eerily similar to those issued by RCA on the CED system in the early 1980's. At the Consumer Electronics Show DIVX press conference, Circuit City CEO Richard Sharp even unveiled a DIVX kiosk somewhat similar to the original CED kiosk.
But on June 16, 1999, after less than nine months on the market, DVE announced that DIVX was kaput, and registered players ceased to operate for DIVX playback on June 30, 2001. Oddly enough, after DIVX's demise the DivX name was adopted as the name for an MPEG4 video codec widely used for video copying. In all, a little over 500 titles were issued for the DIVX pay-per-view system.
Previous Image | Next Image | Slide Show Index | CED Magic Home