Previous Image | Next Image | Who's Who Home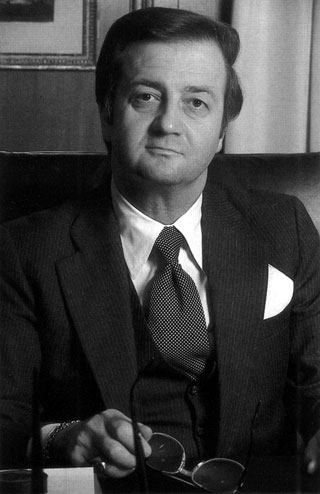 Maurice R. Valente
Maurice Valente had been employed at ITT for 14 years when he was recommended by the executive placement firm Heidrick & Struggles in the Fall of 1979 for the job of RCA President. The RCA Board had been concerned that Edgar Griffiths had been spread too thin in his role as both CEO and President, and at age 59 there was pressure for him to tailor a younger successor. At that time Maurice Valente was ITT's Executive Vice President in charge of consumer goods, and the prospect of being a corporate president appealed to him.

Valente's personality was in stark contrast to Griffith's. He was regarded as sophisticated and cosmopolitan in contrast to Griffith's somewhat aloof and bottom-line-oriented nature. Valente assumed the role of RCA President and COO on January 1, 1980 at an annual salary of $400,000.

Although Griffiths had been directly involved with the selection of Valente, the two began to clash a few weeks after his arrival at RCA. Valente had further problems with corporate resentment, as many RCA executives felt the President should have been selected from within the corporation. In April 1980, Edgar Griffiths and two vice presidents approached the RCA Board about disposing of Valente, and in May, the Board agreed to do just that. What followed was one of the most unsavory incidents in the history of the corporation.

Valente was offered a settlement of $1.5 million, and was told that the press announcement would be along the lines that "both sides had agreed to disagree." But it came out stating Valente's performance had been unsatisfactory from the start. Further rumors were circulated that he was about to be fired from ITT before joining RCA, that he had conducted an extramarital affair, and that he barely worked while at RCA. None of these were true, and it was common knowledge at corporate headquarters that he put in 12-hour days.

But the rumors and the nature of his departure from RCA made it difficult to find executive employment elsewhere. He attempted to start his own telecommunications concern, but never fully recovered from the RCA experience. He committed suicide on September 3, 1983 at the age of 54.

If you have some additional information to supply on Maurice Valente, feel free to submit the form below, so your comments can be added to this page.
---
Send your comments in email via the Contact page
---
Previous Image | Next Image | Who's Who | Memories | CED Magic Home