Previous Image | Next Image | Who's Who Home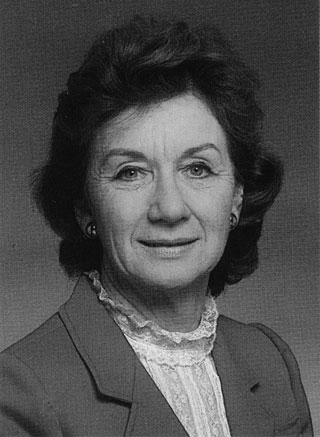 Cecily C. Selby
---
NEW YORK, NY -- October 4, 1999 -- Women professionals in the biotechnology industry in search of a role model need look no further than Dr. Cecily Cannan Selby, the speaker at the Women In Bioscience (WIB) breakfast at the New York Biotechnology Association's (NYBA) 9th Annual Meeting.

WIB, a committee formed by NYBA to foster the advancement of women in biotechnology and related sciences, will meet at the New York Hilton and Towers at 8 AM on November 8 to hear Dr. Selby talk about the New York Academy of Sciences conference, "Choices and Successes: Women in Science and Engineering." The 1998 conference was organized by Dr. Selby, whose distinguished careers in science and education make her uniquely qualified to comment on the challenges facing women in science.

Dr. Selby received her PhD in physical biology from Massachusetts Institute of Technology in 1950 and went on to garner respect and recognition in a male dominated field while the women's movement was still in its infancy. She began her career as a research scientist at the Sloan-Kettering Institute and Cornell Medical College, publishing some of the first papers on cancer, skin and muscle cell ultrastructure. Her achievements in the field of education are equally impressive: she was professor of science education and chair of the math, science, and statistics education department at New York University, and has co-chaired state and nation-wide committees on math, science and technology education.

The New York Biotechnology Association is a non-profit, membership trade association dedicated to the growth and development of the state's biotechnology industry. NYBA's services and events help its members -- bioscience companies, research institutes and related professional services -- build their businesses.
- 1999 NYBA Press Release

Dr. Selby is currently an affiliated scholar and co-chair of the Research Advisory Council, Program in Science, Society and Gender at Radcliffe's Public Policy Center.

Upon receiving her degree in physics from Radcliffe College, she went on to earn her doctorate in physical biology from the Massachusetts Institute of Technology. During the 1950's, Dr. Selby was a research scientist in virology and electron microscopic cytology at the Sloan-Kettering Institute for Cancer Research and an instructor in histology at Cornell Medical School, publishing some of the first papers on cancer and muscle-cell ultrastructure. Dr. Selby was the head of the Lenox School in New York from 1959 to 1972 and the Dean of Academic Affairs at the North Carolina School of Science and Mathematics from 1979 to 1985.

She has served on many governing boards, including Radcliffe College and two Fortune 500 corporations. From 1984 to 1989, she was a professor of science education and chair of the Math, Science, and Statistics Education Department at New York University's School of Education.

A lifelong advocate for equity in science education, Dr. Selby has served on major state and national educational boards and committees and has published extensively on science, education, and management.

In 1992, Dr. Selby was recognized as the Woman in Science of the Year by the New York chapter of the American Women in Science. Her other honors include the Women of Valor Honoree, Educational Equity Concepts, 2000; the 2000 fellow of American Women in Science and the 1997 fellow of the New York Academy of Sciences.
- 2001 Radcliffe Institute Biography

Dr. Cecily Selby was national executive director of the Girl Scouts of the USA from April 1972 until September 1975.
- anonymous

If you have some additional information to supply on Cecily Cannan Selby, feel free to submit the form below, so your comments can be added to this page.
---
Send your comments in email via the Contact page
---
Previous Image | Next Image | Who's Who | Memories | CED Magic Home