Previous Image | Next Image | Who's Who Home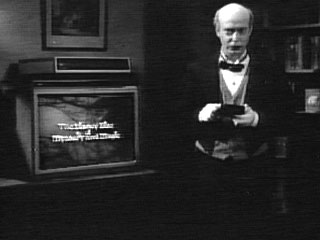 Gary Schwartz
Actor and voice-over artist Gary Schwartz played the role of the butler on the interactive RCA VideoDisc title "The DisneyDisc of Mystery and Magic." Here he is shown during the disc introduction explaining the use of the RCA CRK36A Random Access Control Center in conjunction with the SJT400 VideoDisc player sitting on top of the RCA CTC131 chassis television. Gary Schwartz also played the role of Rouka in the CED title Quest for Fire.

At about the same time "The DisneyDisc of Mystery and Magic." was made, he was playing the role of the Canadian thug in the movie The Wizard of Speed and Time. In a scene from that movie Lucky Straeker uses an RCA CRK32A Digital Command Center to control an RCA television.
---
GARY SCHWARTZ plays the Tall Thug with a Canadian accent. The inflection was a holdover from his last job - three frozen months slogging through the primordial ooze of the Ontario wilderness - co-starring as Rouka the Fire-Keeper in the award-winning feature, "Quest For Fire."

On television, Gary's had a co-starring role on Hallmark's Zoobilee Zoo as the comical Bravo Fox, actor/impresario extraordinaire; was a featured guest on two editions of Faerie Tale Theatre; is a series regular on The Disney Channel's You and Me, Kid; and has starred in several episodes of Super Mario Brothers. His face and voice may be recognized in many TV commercials and music videos.

Gary Schwartz' other activities include juggling, mime, and performing with his partner Caleb Chung in the highly-acclaimed comedy team, "Schwartz and Chung." He is also an associate and coach at the Spolin Theater Games Center, offering workshops in improvisation.
- 1989 Biography from the WOSAT Press Kit

Gary Schwartz in the Internet Movie database.

If you have some additional information to supply on Gary Schwartz, feel free to submit the form below, so your comments can be added to this page.
---
Send your comments in email via the Contact page
---
Previous Image | Next Image | Who's Who | Memories | CED Magic Home