Previous Image | Next Image | Who's Who Home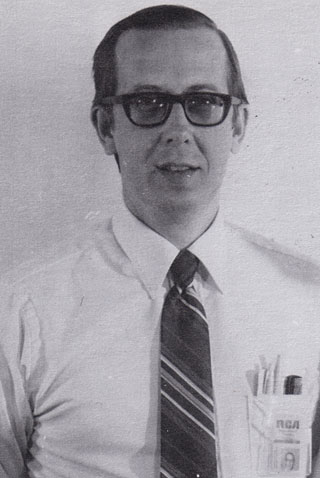 Paul Selwa
Paul Selwa joined RCA "SelectaVision" VideoDisc Operations in July 1979 as a Member of the Engineering Staff, assigned to Test Engineering. Since that time his primary work has been to develop stylus production testers, including the design of the equipment described in the paper "Automatic VideoDisc and Stylus Test Equipment." He is currently designing instrumentation for the presses used in disc production at RCA "SelectaVision" VideoDisc.
- RCA 1982 Company Biography

In 1988, Paul Selwa wrote the PC-compatible program Firplot which calculates the filter coefficients for Finite Impulse Response (FIR) digital filters.

In 2002, Paul Selwa was a member of the Thomson Amateur Radio Club (TARC) based in Indianapolis, Indiana, and home to W9RCA.

Search for patents issued to Anthony P. Selwa.

If you have some additional information to supply on Paul Selwa, feel free to submit the form below, so your comments can be added to this page.
---
Send your comments in email via the Contact page
---
Previous Image | Next Image | Who's Who | Memories | CED Magic Home