Previous Image | Next Image | Who's Who Home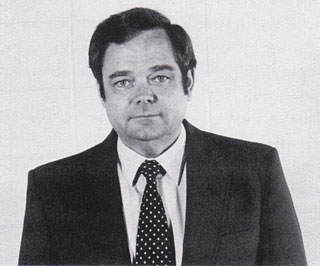 Frank T. Scearce
Frank Scearce joined "SelectaVision" VideoDisc Operations in 1979 as a Senior Member of Engineering Staff in the Product Assurance Department in Indianapolis, Indiana. He started with RCA in 1958 at Astro-Electronics in Princeton, New Jersey. He has managed the Integration and Test Groups for the TIROS, SATCOM, Atmospheric Explorer and Dynamic Explorer spacecraft programs. He is currently the Manager of Player Product Assurance for VideoDisc.
- RCA 1981 Company Biography

Like many of us, Frank Scearce's favorite class during high school in his native Kentucky, were his two years of wood shop. Unlike most of us, Frank never forgot his passion for precision woodworking. Throughout his thirty-three year career as an electrical engineer at a major aerospace corporation, Frank faithfully nurtured his woodworking hobby and patiently perfected his skills in all facets of this demanding craft.

After retiring in 1989, Frank was able to dedicate himself almost full time to his vocation. With the help and support of his wife Shirley, Frank refurbished the basement of their home and outfitted it with a comprehensive array of wood working tools and equipment. Frank's early efforts were primarily devoted to the reproduction of classic 18th century furniture. World renowned for their natural elegance and artistic designs, these challenging pieces served as Frank's "post-graduate" education in the many disciplines of advanced woodworking.

For the past four years, Frank has focused his considerable woodworking skills on more contemporary designs of his own creation. He carefully selects "highly figured" (meaning wood that has exceptionally well-defined and unusual grain patterns) and exotic woods from domestic and international sources. Using these woods in his own geometric and free form designs, Frank creates pieces with a uniquely pleasing artistic appeal. His floor and table lamps blend warm pools of light with the intricate patterns and full-bodied colors of his medium. Frank's chessboards and cutting boards use many of these same woods in rich symmetrical patterns that are a delight to the eye.

The aesthetic appeal of Frank's work is obvious. Somewhat less evident are the elements of highly skilled design and engineering as well as the hours upon hours of focused labor it takes to produce such eye-catching creations. From the precisely calculated compound angles in his geometric designs, to the infinite care and patience exercised in the exact alignment of complementary wood grains, Frank utilizes his decades of experience in every piece he creates. This degree of care and expertise has earned Frank Scearce a place as a juried member of the highly regarded Bucks County Guild of Craftsmen in Pennsylvania.

It also offers you the opportunity to incorporate some truly beautiful works of art into your daily life.
- 2002 Biography from Kraftmasters.com

If you have some additional information to supply on Frank Scearce, feel free to submit the form below, so your comments can be added to this page.
---
Send your comments in email via the Contact page
---
Previous Image | Next Image | Who's Who | Memories | CED Magic Home