Previous Image | Next Image | Who's Who Home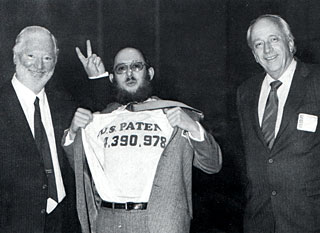 Jeremy D. Pollack
Jeremy Pollack, shown above wearing a T-shirt bearing the number of his VideoDisc patent, received a 1979 RCA Laboratories Achievement Award for research related to the CED system.
---
John V. Regan, Vice President, Patent Operations (left above), and Dr. William M. Webster, Vice President, RCA Laboratories (right above), enjoy Jeremy D. Pollack's "superman" impression. Pollack's wife, Marcia, made the T-shirt bearing the number of Pollack's first patent which was issued in 1983.
- March/April 1984 RCA Radiations

In 2002, Jeremy Pollack was an Associate Member of the Technical Staff, Sarnoff Corp., DTV & Entertainment Systems Lab - Video & Entertainment Group.

Search for patents issued to Jeremy Pollack.

If you have some additional information to supply on Jeremy Pollack, feel free to submit the form below, so your comments can be added to this page.
---
Send your comments in email via the Contact page
---
Previous Image | Next Image | Who's Who | Memories | CED Magic Home