Previous Image | Next Image | Who's Who Home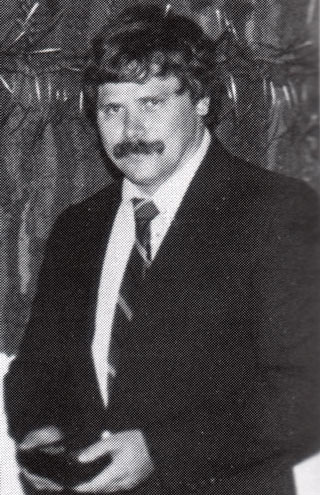 Robert A. Pitsch
Robert Pitsch is a Member, Technical Staff, of the Digital Products Group at RCA Consumer Electronics Division in Indianapolis, Ind. In 1977 he restructured the corporate specifications for wire identification. In 1981 he was a recipient of a Technical Excellence team award for establishing chassis/ATE test correlation procedures. His current responsibilities include project coordination for the MRT003 module and future Dimensia products. Mr. Pitsch has two patents pending on the Dimensia system.
- RCA 1985 Company Biography

On December 11, Robert Pitsch was announced as a winner of a 1985 RCA Consumer Electronics Operations Technical Excellence Award. He received this award for making a CAV (Dimensia) compatible satellite receiver in less than three weeks to support a corporate announcement concerning future DBS business. Although the satellite receiver and descrambler that were used were off-the-shelf items, they were not compatible. The units also had to be interfaced to a microcomputer controller that communicated with the front panel controls of the new package and the Dimensia control bus. Bob designed the necessary hardware and software, procured the equipment, wrote the software, and delivered the project on schedule.
- Jan/Feb 1986 RCA Engineer

In 2002, Robert Pitsch was a Liaison Engineer at Thomson Consumer Electronics.

Search for patents issued to Robert Alan Pitsch.

If you have some additional information to supply on Bob Pitsch, feel free to submit the form below, so your comments can be added to this page.
---
Send your comments in email via the Contact page
---
Previous Image | Next Image | Who's Who | Memories | CED Magic Home