Previous Image | Next Image | Who's Who Home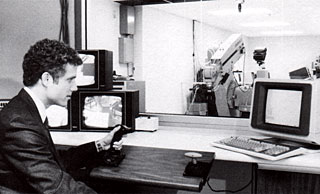 Paul B. Pierson
Paul Pierson is the Manager of the Advanced Technology Laboratories (ATL) Robotics Lab at the David Sarnoff Research Center. He is responsible for the development of robotics technology and applications, and for associated disciplines. Prior to coming to ATL, he was Manager of Software Review and Evaluation in RCA's SelectaVision VideoDisc Operations, where he was responsible for video and audio processing systems used in disc mastering, and for the quality of the tapes and the master discs used to produce discs. Before that he was a Program Manager in the Government Systems Division responsible for high-resolution laser beam recorder development programs. Paul received a BSEE degree from Case Institute of Technology and an MSE degree in Systems Engineering from the University of Pennsylvania.
- RCA 1986 Company Biography

Paul Pierson later became a Manager at Martin Marietta Astro Space.

Search for patents issued to Paul Pierson.

If you have some additional information to supply on Paul Pierson, feel free to submit the form below, so your comments can be added to this page.
---
Send your comments in email via the Contact page
---
Previous Image | Next Image | Who's Who | Memories | CED Magic Home