Previous Image | Next Image | Who's Who Home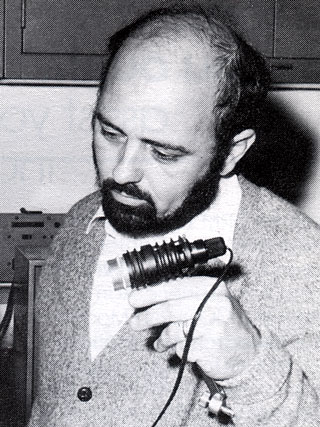 Richard W. Nosker
Richard W. Nosker joined RCA in Camden as a freshman co-op in 1961. He moved to RCA Laboratories in 1964, and received the BSEE from the University of Cincinnati in 1965. He received the Ph.D. from Princeton University in EE (solid state) in 1970, with the support of a David Sarnoff Fellowship. Since 1966, he has worked on VideoDisc. In the early years, he worked in a variety of areas such as master preparation and electroforming, and analytical studies of electron beam scattering in photoresist. For nearly a decade, he has concentrated on the mechanics and chemistry of the stylus-disc interface. These studies have involved the friction, lubrication, and wear of the sliding components the mechanical deformations at the interface and the resulting effects on signal recovery, and stylus dynamics and resultant disc deformations. During the 1978-79 academic year, Dr. Nosker was at Imperial College of Science and Technology in London, England, where he studied the bulk deformation and yield of polymers at very high strain rates. He has received three RCA Laboratories Outstanding Achievement Awards and is a member of the American Physical Society.
- RCA 1982 Company Biography

Search for patents issued to Richard William Nosker.

If you have some additional information to supply on Richard Nosker, feel free to submit the form below, so your comments can be added to this page.
---
Send your comments in email via the Contact page
---
Previous Image | Next Image | Who's Who | Memories | CED Magic Home