Previous Image | Next Image | Who's Who Home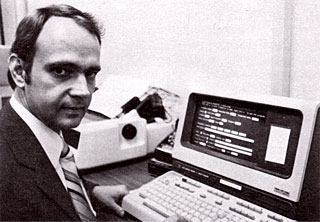 William W. Myers
Bill Myers implemented the fourth-generation computer language FOCUS for VideoDisc development, testing, and product assurance. This resulted in a 90 percent savings in time and costs for program and system development over the third-generation computer languages FORTRAN and COBOL.
---
Bill Myers joined "SelectaVision" VideoDisc Operations in June of 1980 as Product Assurance Statistician. He provides computer systems support for various departments throughout VideoDisc operations. He graduated from Rose Hulman Institute of Technology and had ten years of systems and programming experience using COBOL, FORTRAN, and PL/1 prior to joining RCA.
- RCA 1982 Company Biography

Visit William Myer's web site concerning computer solution development.

If you have some additional information to supply on William Myers, feel free to submit the form below, so your comments can be added to this page.
---
Send your comments in email via the Contact page
---
Previous Image | Next Image | Who's Who | Memories | CED Magic Home