Previous Image | Next Image | Who's Who Home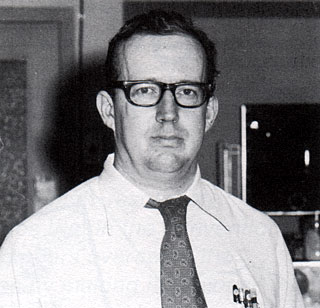 Robert L. Covey
Robert Covey joined the Manufacturing Systems and Technology Research laboratory of the RCA Laboratories in 1980 as a Member of the Technical Staff. He has worked primarily on VideoDisc-related projects. He has participated in the development of methods for automated image sampling and analysis, and has developed an exact theory of VideoDisc diffraction that has been successfully applied to optical testing and laser playback of VideoDisc masters.

He obtained his BS degree in Physics from M.I.T. in 1962. He earned his Ph.D. in Physics from the University of California at Berkeley in 1970. After graduation, he worked on postdoctoral research projects in optics and spectroscopy at the University of Maryland, University of California at Berkeley, and the U.S. Naval Research Laboratory, where he obtained an NAS/NSF Research Fellowship. He then joined industry, where he worked in the design and production of optical parts and coatings.
- RCA 1984 Company Biography

Robert Covey passed away on March 11, 1991 in Hightstown, New Jersey at the age of 50.

Search for patents issued to Robert Covey.

If you have some additional information to supply on Robert Covey, feel free to submit the form below, so your comments can be added to this page.
---
Send your comments in email via the Contact page
---
Previous Image | Next Image | Who's Who | Memories | CED Magic Home