Previous Image | Next Image | Who's Who Home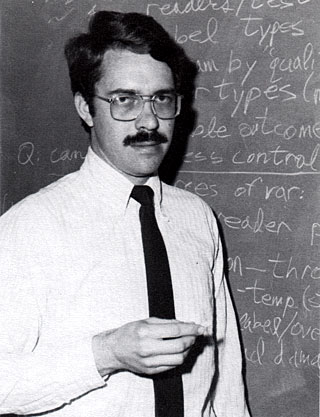 David E. Coleman
---
David Coleman is a Member, Technical Staff in the Productivity and Quality Assurance Research Group at RCA Laboratories. He received a B.A. in applied mathematics/computer science from Harvard University in 1977, and an M.S. in statistics from Princeton University in 1980. Since joining RCA Laboratories in 1981, he has worked on statistical production engineering projects, focusing on graphical display of data and management-by-exception software systems driven by statistical algorithms.
- RCA 1984 Company Biography

David E. Coleman has more than eleven years' experience in developing mathematical software. He received his BA in Applied Mathematics/Computer Science from Harvard University, and his MS in Statistics from Princeton University. Since then he has done mathematical modeling of nuclear fusion load capacity for the Federal Department of Energy. Since becoming a Member of the Technical Staff at RCA Laboratories in 1981, he has designed statistical software, participated in leading statistical process control projects, and co-developed new statistical methodology for Video Components and Display Division (VCDD).
- RCA 1985 Company Biography

In 2002, David Coleman was a Senior Technical Specialist at the Alcoa Technical Center in Alcoa Center, Pennsylvania. He is co-author of Statistical Methods for Detection and Quantification of Environmental Contamination.

Search for patents issued to David Coleman.

If you have some additional information to supply on David Coleman, feel free to submit the form below, so your comments can be added to this page.
---
Send your comments in email via the Contact page
---
Previous Image | Next Image | Who's Who | Memories | CED Magic Home