Previous Image | Next Image | Memories Home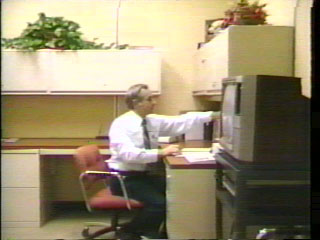 Bob Huck
Bob Huck is busy preparing a presentation for the next 7 a.m. Monday morning meeting with the management staff. In 1978-1979, these early meetings almost always entailed a playback demo of recent disc titles or a report of significant disc test results. Bob McHenry claimed that these demos really woke management up... regarding the serious problem of "locked grooves" and led to the developments of the stylus "kicker" and the caddy!
- anonymous

See Bob Huck listed in the credits for "Memories of VideoDisc."

If you know something about who or what is shown in the above image, feel free to submit the form below, so your caption and/or comments can be added to this page.
---
Send your comments in email via the Contact page
---
Previous Image | Next Image | The Way We Were | Memories | CED Magic Home