I got the idea for doing this section of Memories of VideoDisc after perusing the cool Folklore site put together by the developers of the Apple Macintosh computer. This page is for CED developers and those involved with RCA VideoDiscs when they were on the market to submit stories about their experiences. Although every page of the Memories section has a form to submit stories, some people have mentioned that they would like to submit a story that does not apply to any of the existing pages, and since there are about a thousand pages on the Memories site, some simply do not have the time to look through them all.
The form below allows you to submit your story directly to this page, with submitted stories initially appearing in reverse chronological order, although I may categorize them eventually. The stories can be anything related to the development and market phase of the CED system from RCA employees, RCA associates, RCA dealers, and consumers who purchased the system when it was new.
In addition to your story, you may also email me a photograph or other picture to include adjacent to your story. Please submit the photo in JPEG format with a .jpg extension. Do not send the photo in ZIP format with a .zip extension as it might be identified as spam. If you have a photo, but lack the means to scan it, you may mail it to me at the address on the contact page and I'll scan it and mail it back to you.
When submitting stories where you talk about specific VideoDisc co-workers, managers, or other associates, try not to be overly critical. A good rule of thumb is to not say anything on this page you would not be willing to say to someone face-to-face. I reserve the right to return for further editing submissions that use harsh language or are overly critical.
---
---
Memories of an RCA CED Dealer in Kentucky
Author: Darrell Johnson
Time Frame: 1981 to Present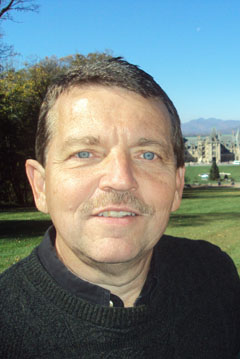 My experience with the RCA CED VideoDisc began in early 1981. Our family-owned RCA Brand TV Sales and Service store sold the original SFT100 player. Having been an RCA TV Dealer since 1975 we were one of the original RCA Dealers nationwide to roll out the CED player.
When RCA announced in early 1981 that the CED Videodisc player was ready for the market the distributor we purchased our TVs from informed us that the player would be introduced nationally in March. Our Dad went to the open house our distributor had debuting the new CED player. If I remember correctly we had about 10 of the SFT100 players in stock when they were introduced. We also had a CED SelectaVision demonstration kiosk where there was a 19-inch RCA Colortrak TV and a SFT100 Disc player mated together in a rather large RCA Dealer CED display. We also had several posters, consumer pass outs, etc. that RCA furnished to us. On the day the player was offered to the public we had about 10 to 15 disc titles in stock, just enough to show customers that you could buy Hollywood movies and watch them at home. There were some movies, cartoons, and maybe a music VideoDisc. We didn't sell very many SFT100 players on the roll out date even though it was a major event across the country and RCA had done their best to advertise the new CED player. There was quite a bit of interest in the player, but I think the fact that VCRs were firmly in the marketplace hurt the sales of the player.
During the remainder of 1981 we began to get more and more videodisc titles and it definitely helped player sales. They weren't great but we did sell approx. 40 players in 1981. Funny thing is the disc themselves sold at a faster rate than RCA had predicted. For every player we sold it resulted in 4 or 5 discs being sold, and at $25.00 to $30.00 each a typical customer was spending over $100.00 on discs when they bought a $499.00 player.
The model SGT200 (Stereo) player was introduced in 1982. Can't say that it dramatically increased player sales but when the SGT250 (Stereo/Remote) player came out it did pep up sales somewhat. Disc sales continued to be strong throughout 1982.
1983 brought the AUTO LOAD player to the market with the SJT 100, 200, and the remote model SJT300. Also new to the market was the SJT400 player with its on-screen displays, Digital Command remote and stereo sound. I remember when we saw the first SJT400 we were blown away with the Random Access and Seek features and with the Interactive discs that RCA had introduced - it was a great selling point for our customers.
By late 1983 and early 1984 the writing was on the wall as far at the future of the CED player. Deep discounts, consumer rebates, free discs, etc. were being offered by RCA just to sell players. You could buy a player for as little as $99.00. When they announced the end of CED player production in 1984 we weren't surprised as our player sales were pretty much over - we would occasionally sell a player but there was very little interest from the public. In total we sold around 150 CED Players in the 4 years they were on the market, and approx. 500 discs.
When RCA announced that player production was ceasing we then sold all of our remaining discs at a discount. Sold them one at a time until we had about 150 left. We then sold those to one of our customers who had previously purchased a 400 model player. I think maybe we sold them for $3.00 each, what a bargain! By the time RCA abandoned the CED player, home VCRs were being sold by the millions, and in fact, our VCR sales in one year exceeded the total CED players we had sold in four years.
We also had an RCA Authorized Service department and did work on the CED Players both in warranty and out of warranty. As I recall the players were quite dependable as the most common problem was a defective stylus and occasionally a bad audio processing IC. I do remember on the SFT100 that RCA had a turntable platter revision to prevent intermittent speed problems which caused color fade and rainbow, but other than that they were good players. Don't remember working on many of the J or K model players other than changing out a worn stylus.
I never thought that the CED format would one day be a collectable. When player production ceased in 1984, I thought that was the end of that. It was forgotten by me until the late 90s when I found a player on eBay. Having been an electronics technician for over 20 years, and remembering the CED players back in the 80s I found that there was a need for someone to repair the players again. I started offering a repair service on the players and have been doing it ever since. For me the CED format is just so amazing. Think of it, a needle that picks up picture and sound from a disc that looks like a phonograph record!
My 2 brothers and I still operate our family-owned business selling and repairing TVs and electronics - we're celebrating our 44th year in business. Our RCA days left us with some fond memories, not of just the CED player, but the RCA brand of TVs, VCRs, and audio products, especially the DIMENSIA Brand. We stopped selling the RCA brand of TVs in 2005.
It's a shame that the RCA brand as we knew it no longer exists, as they partnered with a Chinese company and since then the brand has been pretty much a throw away TV found in department stores.
---
Screwed
Author: Marvin Bock
Time Frame: 1975-86
I was employed by RCA SelectaVision at the Rockville Rd. Plant from 1975 until the closing in 1986. Injuries received due to ignorance on the part of middle management had left me unable to work in my occupation.
I came to RCA as an expert in the field of injection molding of plastics. I was treated as though I was employed to clean toilets. Somehow, I have managed to survive in spite of my work related injuries. I look upon those twelve years of busting my butt and breaking my back as the biggest mistake of my life.
However, I know that I am not alone in having gotten screwed by RCA Corporation. I wish those others the best.
---
Early LaserDiscs and First Public Demonstration of CED
Author: Richard Sonnenfeldt
Time Frame: March 1975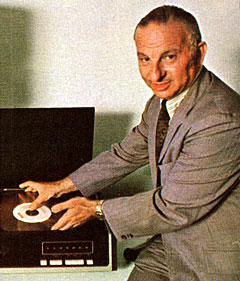 Philips and MCA included an RCA contingent in a glitzy public demonstration of their laser disk at the Hotel Pierre in New York. There I realized that I was looking at a laboratory model, not a production prototype.
The Philips disk played very well for a few minutes, but when it had glitches, the demonstrator quickly turned the player off and launched into talk. The Philips project was technically under engineering manager William Zeiss, a Dutch colleague of mine from Digitronics days, who let me know, quite discreetly, that he had developed the Philips disk as a communications device, not as a consumer mass product. He said: "The show biz types are a bit ahead of themselves." Zeiss was never given a part in those demos nor was he allowed to speak publicly. At Philips, too, manufacturing feasibility was far in the future. There, in their marriage with MCA, the Hollywood powerhouse, it was the MCA promoters who got ahead of the Philips researchers.
Four days later, on March 19, 1975, I demonstrated the RCA videodisk to more than a dozen writers from "The New York Times," "The Wall Street Journal," "Forbes," "Time" and the trade press. My showing was carefully cast as a "Report of Work in Progress." Though I was sweating bullets, my show went off without a hitch. These were the same viewers who had just seen the Philips demonstration. I showed our good program segments, but I did not disguise the status of our development.
- An excerpt from Richard Sonnenfeldt's soon to be U.S. published memoirs. The German Edition is available now.
- Courtesy of Richard Sonnenfeldt, the complete VIDEODISK Chapter from his autobiography is now available on-line.
---
CED Retailing at G&M Video in Indiana
Author: Mike Miller
Time Frame: 1981-86
My experience with CED discs was as a retailer. My store (G&M Video, in Speedway Indiana) was one of the largest retailers of CED discs in the country. (We even had a thriving mail order business for CED discs, which benefited from the poor distribution of CED in some parts of the country). We stocked every CED title ever made, and offered discs for both sale and rental. Our store also serviced the players, so I have some experience with the quality of the machines as well.
One thing that helped us was that we were located about two miles from RCA's disc pressing plant. We got a lot of business from RCA employees, who for some reason couldn't buy (and certainly couldn't rent!) discs direct from the factory. Through some of our RCA-employee customers we also got advance information on what was due to be pressed.
When RCA got the player price down to $99, we sold a lot of machines. (Over 100 in one week during one particularly well-advertised sale, if I recall.) In general, customers liked the machines, and tended to put up with the random skipping. The audience tended to be middle or lower class; CED never did attract an upscale videophile consumer. The main attraction was price-- cheap movies on a cheap machine. Quality wasn't much of an issue with the core market.
Unlike the LD market, we tended to have a heavier rental business than sale business. However, we did move thousands of discs each month-- mainly to customers who also rented. When we received real hit movies-- like the initial release of Star Wars-- we would order and sell hundreds of copies a month. While most customers would buy a disc a month or so, we did have a core group of customers who purchased almost everything that was released.
It was a good business.
While it lasted.
When RCA ceased player manufacturing, they promised to support the installed base for three years. Well, it didn't last quite that long. The customers saw they were being abandoned and flocked in droves to buy VHS machines. As the disc business started to dry up, both RCA and CBS scaled back and finally ceased pressing of new discs. We changed our business over to VHS tapes--which was mainly rental, not sale-- and I moved on to another career (publishing computer books, if anyone cares).
The funny thing is, RCA sold more players and discs in a single year than Pioneer did in the first 10 years of LD, yet CED was perceived as a failure. Perhaps if RCA had recruited more supporters-- and worked out some of the technical glitches-- then things might have been different.
---