Previous Image | Next Image | Slide Show Index | CED Magic Home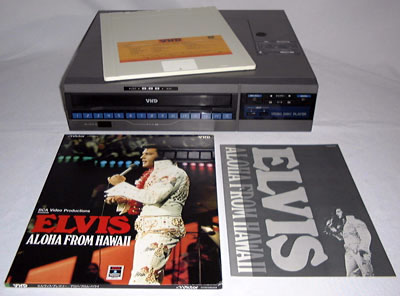 1983: JVC VHD VideoDisc System Hits the Market in Japan
After being shown in a prototype version in 1979, and being given an impressive booth at the 1982 Winter CES, the VHD VideoDisc system from Victor Company of Japan (JVC) was marketed in that country in April 1983. The system was later marketed in Great Britain starting in January 1984 to a limited industrial market. The Japanese system was consumer oriented, and a large number of titles including movies, music videos, sports, etc. were released for the remainder of the decade. The system was particularly popular with karaoke, and many karaoke bars in Japan had one of these players installed in a special karaoke cabinet until LaserDisc and CD+G took over that market.
The player shown above is intended specifically for karaoke use, although it can be used to play regular VHD's like the Elvis disc on top of the player. VHD caddies have a small simple label, but came in colorful cardboard sleeves as shown on the lower left. This sleeve provides a tight fit for the caddy and can be easily damaged if carelessly handled. Also packaged inside the sleeve was the program guide shown at the lower right. Although not apparent from the picture, most of the packaging text is printed in Japanese. The Victor karaoke VHD player is an industrial quality unit with a motorized loading mechanism much faster than that employed in the RCA J/K line of CED players. The number buttons across the front of the player are intended to select specific karaoke tracks, and the player automatically moves the disc to the unload position after any given track is played.
Victor Company of Japan was formed in 1927 as a subsidiary of the Victor Talking Machine Company in the United States (which later merged with the Radio Corporation of America to become RCA Victor). In 1953 JVC became a subsidiary of Matsushita and remains so to the present day. JVC's origins from Victor give the company access to the Nipper Trademark and a small likeness of Nipper appears on some players and on the sleeve of many VHD's, just like it does on the SFT100 CED player and the RCA VideoDiscs released in 1981.
Previous Image | Next Image | Slide Show Index | CED Magic Home