Previous Image | Next Image | The Hobbit CED Page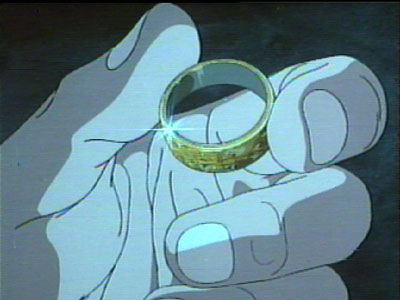 Gollum's "Precious"
Bilbo finds Gollum's "Precious" - a ring that renders its wearer invisible. (Side 1, 25:14).
"His head was in a whirl of hope and wonder. It seemed that the ring he had was a magic ring:it made you invisible!
He had heard of such things, of course, in old old tales; but it was hard to believe that he really had found one,
by accident. Still there it was: Gollum with his bright eyes had passed him by, only a yard to one side."
- The Hobbit: Riddles in the Dark
Previous Image | Next Image | The Hobbit CED Page | CED Magic Home