Previous Image | Next Image | LOTR CED Page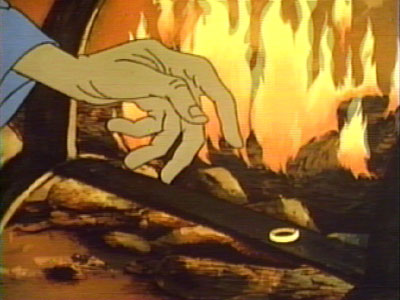 The One Ring Impervious to Fire
The One Ring is shown to be unharmed by fire, which reveals the hidden lettering on the ring (Side 1, 09:06).
"'I cannot read the fiery letters,' said Frodo in a quavering voice.
'No,' said Gandalf, 'but I can. The letters are Elvish, of an ancient mode,
but the language is that of Mordor, which I will not utter here.
But this in the Common Tongue is what is said, close enough:
One ring to rule them all, One ring to find them,
One ring to bring them all and in the darkness bind them.'"
- LOTR Book I: The Shadow of the Past
Previous Image | Next Image | LOTR CED Page | CED Magic Home