Dimensia FKC2600E and FKC2601T Monitors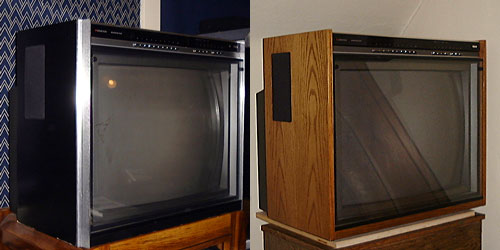 Notes:
The FKC2600E (black) and FKC2601T (wood grain) Monitor/Receivers are identical except for the external styling of the units.
In 1985, RCA introduced the Digital Command Component series. The fundamental component of this "RCA Audio System" is the MSR140 Stereo Receiver, which provides system control functionality for audio components only, with no need to purchase a Dimensia television.
In 1987 RCA introduced the 27" FRP2722 Dimensia Monitor/Receiver in the CTC140 chassis. This replaced the FKC260x units.
In the 1987 Dimensia system, the system control function was also available in the MPT200 Audio/Video Control Center and the MSR250 Audio/Video Receiver.
Specifications:
Color Standard:
525 line NTSC color
Chassis:
CTC131, solid state, unitized
Picture Tube:
26 inch (diagonal) 110-degree Coty Full Square Precision in-line with high-potential, bipotential gun, super arched shadow mask, striped, pigmented phosphors, and integral contrast enhancement filter
Remote Control System:
Digitally encoded infrared light
Power Cord:
Type SJT, 3-wire shielded
RF Tuning System Type:
Multiband frequency synthesis
RF Band Coverage:
VHF channels 2-6, 7-13
Midband channels (A-5) - I
Superband channels J - W
Hyperband channels (AA) - (QQ)
UHF Channels 14 - 83
RF Frequency Coverage:
54 - 402 MHz, 470 - 890 MHz
Tuner Type:
Solid state
Channel Access:
Direct access keyboard, programmable Scan Up/Down
Channel Indication:
On-screen
Antenna inputs:
Three 75-Ohm VHF inputs
75-Ohm UHF input
Sensitivity:
1.14 pW, VHF; 3.0 pW, UHF
Off-set Channel Pull-in Range:
+/- 3 MHz; +2.5 MHz -3.5 MHz, off-the-air (single channel)
Luminance Bandwidth:
4.2 MHz (limit)
Black-to-White Rise Time:
54.0 ns (RF in max. peaking)
Luminance Resolution:
Greater than 350 lines
Chroma Bandwidth:
I axis, 1.5 MHz
Q axis, 500 KHz
Video Input:
1 V, P.P.; 75 Ohms; negative sync
Video Output:
1 V, P.P.; 75 Ohms negative sync
HV @ Zero Beam Current:
28.2 kV, nominal
RGB Resolution:
500 lines, minimum
Bandwidth:
6.2 MHz
RGB/Enable:
TTL Compatible
Hi (color on) = min 2.4 V (no current required as Monitor has internal 3.65 V pull up voltage through 65 Ohm resistor)
Lo (color off) = less than 1.5 V; less than 50 Ohms impedance; able to draw minimum 30 ma.
RGB Sync:
0.25 V to 1 V P.P.; negative polarity
Audio Frequency Response:
50 - 15,000 Hz
Stereo Performance:
BTSC system, three channels (L, R, Audio-B)
Stereo/Mono Switching:
Automatic
Audio Input:
680 mV +/- 280 mV RMS
Audio Input Impedance:
16 kOhms
Audio Output:
Selected Out: 400 mV RMS @ 600 Ohms
System Audio: 400 mV RMS @ 600 Ohms
To Hi-Fi: 1.5 V RMS @ 600 Ohms (maximum volume controlled)
Speaker Types:
Two 5" high compliance woofers
Two 2" tweeters
Speaker Impedance:
Internal, 16 Ohms nominal
External, 6 Ohms or greater
Power Source:
120 Volts (+/- 10%), 60 Hz
Power Consumption:
134 Watts average, 157W max.
Dimensions:
25.3" x 21.8" x 18.7"
Weight:
100 lbs.