Dimensia CRK35A Remote Control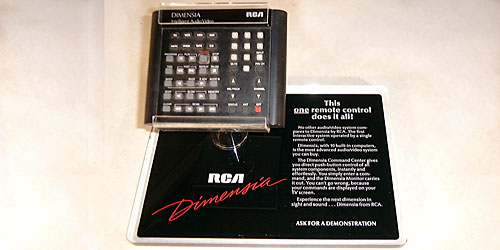 Notes:
The remote shown is installed in a display stand explaining its capabilities, as multiple-device remotes were novel in concept when the Dimensia system was introduced.
The VID2 button controls 400-series CED players. This button was originally labeled DISC with the name being changed when RCA canceled the CED system. Diagrams in the MSA100, MAT110, MTR120, and MTT130 owner's manuals still have the button labeled DISC.
This remote was replaced by the wedge-shaped CRK45A in the 1987 - 1989 Dimensia system. The ability to control 400-series players is absent from the CRK45A remote.
Specifications:
Transmission System:
Dual infrared diode
Transmission Protocol:
Pulse position modulation
Functions:
52 buttons
Device Buttons:
TV, VCR, VID2 (DISC), AUX, AM/FM, PHON, TAPE, CD
Keypad Type:
56-position, 8-by-7 X-Y matrix
Circuitry:
Microprocessor-controlled with on-board memory
Program Ability:
Channel and clock
Power Source:
Four AA batteries
Battery Life:
One year in normal use
Dimensions:
5.6" x 1.4" x 5.1"
Weight:
0.85 lbs. w/batteries