Previous Image | Next Image | Who's Who Home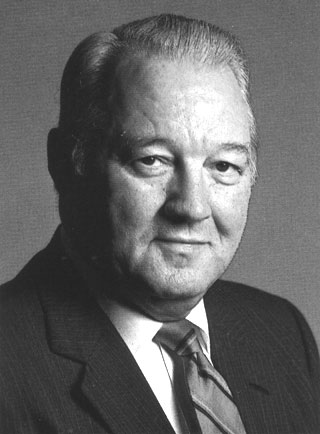 Donald B. Smiley
Donald Smiley was Chairman and CEO of R.H. Macy & Co. and a member of the RCA Board of Directors during all the years the CED system was on the market. He was rumored to be a replacement for Edgar Grittiths as RCA Chairman and CEO, a job that ultimately went to Thornton Bradshaw.
---
Self-made son of a Davenport, Iowa grocer, Donald Smiley worked his way through law school to become chairman of the board and chief executive officer of R.H. Macy Co. He began as an attorney with Macy's and came through as treasurer, vice-president, and president before becoming CEO. He is a director of the Metropolitan Museum of Art; is a noted philanthropist; and serves on the boards of NBC, RCA Corp., Omega Fund, Inc., Irving Trust Co., and Ralston Purina. He is a member of the American Foreign Policy Association. His alma mater, Rock Island's Augustana College, has honored him with an outstanding achievement award and an honorary doctorate. Smiley lives in Greenwich, CT.
- 1989 Davenport Central Hall of Honor Biography

If you have some additional information to supply on Donald Smiley, feel free to submit the form below, so your comments can be added to this page.
---
Send your comments in email via the Contact page
---
Previous Image | Next Image | Who's Who | Memories | CED Magic Home