Previous Image | Next Image | Who's Who Home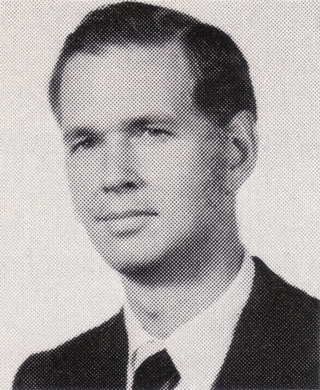 W. Ronald Roach
William R. Roach received the BE degree in Physics from Cornell University in 1961, and the MS and PhD degrees in Physics from the University of Illinois, Urbana, in 1963 and 1966, respectively. His doctoral thesis involved measuring the heat capacity of dilute solutions of helium-3 in helium-4 over a temperature range of 0.010-0.3 K. In 1966 Dr. Roach joined RCA Laboratories, Princeton, NJ, as a Member, Technical Staff, to do optical research. He built a 2-photon spectrometer, using it to study the band structure of insulators; investigated mode locking in Nd3+ doped YAG lasers and the design and fabrication of electro-optic crystal modulators for producing a train of picosecond pulses; and studied the optical properties of films of VO2, demonstrating the use of these films as a high-contrast erasable holographic storage medium. He also developed photoconductively controlled deformable mirror light valves that were coupled to a laser scanner to give a real-time, large-area TV display.

In 1975 Dr. Roach began working on optical instrumentation for the manufacture and inspection of VideoDisc parts. He was responsible for the precision laser recording of deep, narrow grooves into photoresist. He developed a diffraction system that reproducibly measures the 80 Å deep audio signals on VideoDisc surfaces to +/- 1 Å. Later he worked on a system for laser scribing of the three layers of amorphous-silicon solar cells to produce series-connected high-voltage panels. In 1982 Dr. Roach was promoted to Senior Member of the Technical Staff, and in 1983 was appointed Head of the VideoDisc Playback Research group, in the VideoDisc Systems Research Laboratory.

For contributions to a team effort that developed the laser defect detector Dr. Roach received an RCA Laboratories Outstanding Achievement Award in 1975. He received a second such award in 1976 for developing a diffraction spectrometer for the optical measurement of the groove and signal geometries of the VideoDisc, and a third one in 1980 for his contributions to the micromachining of VideoDisc styli.

Dr. Roach holds 12 U.S. patents and has authored or coauthored 14 technical papers. He is a member of Sigma Xi and the American Physical Society.
- RCA 1985 Company Biography

Search for patents issued to William Ronald Roach.

If you have some additional information to supply on Ron Roach, feel free to submit the form below, so your comments can be added to this page.
---
Send your comments in email via the Contact page
---
Previous Image | Next Image | Who's Who | Memories | CED Magic Home