Previous Image | Next Image | Who's Who Home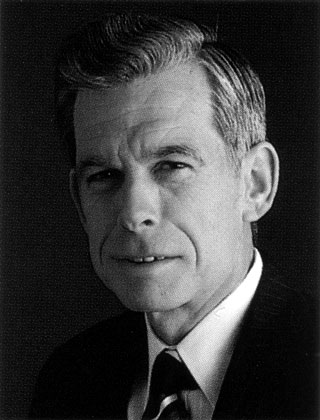 Eugene F. Murphy
Eugene F. Murphy was President of RCA Global Communications (Globcom) from 1974 until 1981. In 1978 a portrait of him by artist Murray Postell was the first document to be faxed internationally from Japan to New York City. In February 1981, Eugene Murphy was elected a Group Vice President, RCA Corp. and also served as President and Chief Executive Officer of RCA Communications, Inc., a conglomeration of RCA American Communication, RCA Global Communications, and RCA Cylix Communications Network, Inc. In 1985, he became Executive Vice President, Communications and Electronics Services, RCA Corp. He became a GE Senior Vice President in 1986 following the acquisition of RCA by GE.
---
The President today announced his intention to appoint Eugene F. Murphy to be a member of the President's National Security Telecommunications Advisory Committee. He would succeed William C. Hittinger.

Since 1964 Mr. Murphy has been with the RCA Corp., when he became an attorney for RCA Global Communications and later vice president and general counsel, 1969; executive vice president for operations, 1972; president and chief operating officer of RCA Global Communications, 1975; and chief executive officer, 1976. He was elected a group vice president of RCA Corp. in 1981 and has continued to serve as chairman and chief executive officer of RCA Communications, Inc., while in his present position as executive vice president for communications and electronic services which he assumed in 1985.

Mr. Murphy graduated from Queens College (B.A., 1956), Fordham University (LL.D., 1959), and Georgetown University (M.L., 1964). He is married, has eight children, and resides in Plandome, NY. Mr. Murphy was born February 24, 1924, in Flushing, NY.
- May 14, 1986 Ronald Reagan Announcement

Eugene F. Murphy retired as Vice Chairman and Executive Officer of GE after over 35 years of highly effective service to the Company and RCA. Prior to his serving GE as President and CEO of our Aircraft Engines and Aerospace businesses, he had served in senior executive positions with RCA before GE acquired that company in 1986.

Mr. Murphy epitomizes the first and most important of GE values: absolute integrity. His strength of character and uncompromising demand for the highest of standards in everything done by GE are his legacy to our Company and will remain a part of its culture.
- 1999 General Electric Annual Report

Board of Directors member Eugene F. Murphy was Vice Chairman and Executive Officer of General Electric Company from September 1997 to July 1999, President and Chief Executive Officer of GE Aircraft Engines from 1993 to September 1997, President and Chief Executive Officer of GE Aerospace from 1992 to 1993, Senior Vice President of GE Communications & Services from 1986 to 1992; director of Martin Marietta from 1993 to 1995; director of BellSouth Corporation; member of President Reagan's National Security Telecommunications Advisory Committee; former Chairman and permanent member of the Board of Directors of the Armed Forces Communications and Electronics Association; member of the Aerospace Industries Association Board of Governors.

In accordance with an agreement with GE, as long as the aggregate principal amount of loans outstanding between GE and the Corporation equals or exceeds a specified level, GE is entitled to nominate one director to the Corporation's Board. Mr. Murphy is that nominee.
- 2001 Lockheed Martin Annual Report

I worked for RCA Global Communications Inc. from 1956 thru 1987. It was indeed an honor to have had the pleasure to work for Mr Murphy during that time. I have built a web-site RCAGlobal.com which keeps all the fond memories of the past alive and all former employees still in touch with one another. This is a wonderful tribute you have paid to Mr Murphy.
- Philip A. Rauso

If you have some additional information to supply on Eugene Murphy, feel free to submit the form below, so your comments can be added to this page.
---
Send your comments in email via the Contact page
---
Previous Image | Next Image | Who's Who | Memories | CED Magic Home