Previous Image | Next Image | Who's Who Home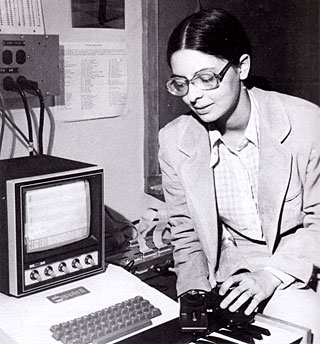 Rebecca Mercuri
Rebecca Mercuri has been involved with VideoDisc research at RCA's David Sarnoff Research Center since 1980. Prior to that she spent numerous years as an educator, teaching everything from pre-school through college. She holds Bachelor's degrees in both Computer Science and Music, and has been writing computer music programs since 1973. Rebecca often lectures and writes on this topic - forums for her work include colleges, universities, and computer and music publications.
- RCA 1982 Company Biography

In 1981, Rebecca Mercuri founded Notable Software a company that has evolved along with the ever-changing computer industry.

In 2001, Rebecca Mercuri, using her expertise in electronic vote tabulation, testified before the U.S. Congress in the wake of the 2000 presidential election voting scandal.

In 2002, Rebecca Mercuri, Ph.D. was a Professor of Computer Science at Bryn Mawr College in Pennsylvania.

If you have some additional information to supply on Rebecca Mercuri, feel free to submit the form below, so your comments can be added to this page.
---
Send your comments in email via the Contact page
---
Previous Image | Next Image | Who's Who | Memories | CED Magic Home