Previous Image | Next Image | Who's Who Home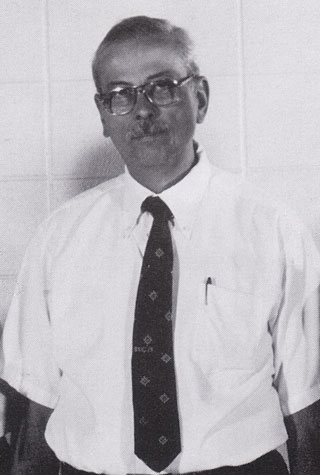 Larry M. Hughes
Larry Hughes joined RCA in 1978 as a Member of Engineering Staff, working on the design of the VideoDisc player. Prior to that he had automotive and appliance design experience.
- RCA 1981 Company Biography

Larry M. Hughes is the recipient of a "SelectaVision" VideoDisc Technical Excellence Award. Larry has been the Mechanical Engineering Project Leader during the entire J-line development cycle. The major goals of the J-line player were reduced cost, reduced size, and additional features. Through Larry's technical leadership, the cost was reduced by 30 percent, the volume was reduced by 15 percent, and competitive high-technology styling with automatic caddy loading was added. Larry personally developed the major mechanical philosophy of the player and acted as a major contributor to several mechanisms, including the disc transfer mechanism, the mechanism shut-off logic, the function-gear cam system, and the single pivot disc lifter.

As a result of his design effort and attention to detail, the J-line player started production with minimal problems and set new standards for VideoDisc player mechanism reliability. With his accomplishments as J-line Mechanical Engineering Project Leader and his innovative mechanical contribution, Larry has demonstrated his technical excellence in the design of a Consumer Electronics product.
- RCA 1983 Company Announcement

Search for patents issued to Larry Hughes.

If you have some additional information to supply on Larry Hughes, feel free to submit the form below, so your comments can be added to this page.
---
Send your comments in email via the Contact page
---
Previous Image | Next Image | Who's Who | Memories | CED Magic Home