Previous Image | Next Image | Who's Who Home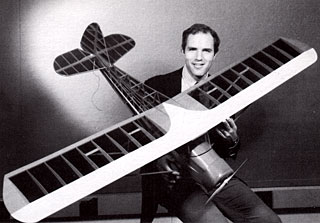 John G. N. Henderson
John Henderson, Head of RCA VideoDisc Signal Systems Research and a radio-controlled model airplane hobbyist, is shown above with his model of a Porterfield Collegiate.
---
John Henderson received the BSEE degree from the University of Pennsylvania in 1967 and the MSE degree from Princeton University in 1969. He joined RCA Laboratories in 1967. He has worked on various consumer electronics projects, including IF filters using conventional and surface acoustic wave components, and both frequency and voltage synthesis approaches to television tuning systems. In 1981, he was named Head, VideoDisc Signal Systems Research, and in 1984 he bacame Head, Systems Technology Research in the Television Research Laboratory.

He holds 14 issued patents and has received four RCA Laboratories Outstanding Achievement awards. He is a member of Tau Beta Pi, Eta Kappa Nu, and Sigma Xi, and received the Eta Kappa Nu Outstanding Young Electrical Engineer Award for 1977.
- RCA 1985 Company Biography

In 1998 John G.N. Henderson, then at Hitachi, was selected as an IEEE Fellow for contributions to the design and development of high definition television systems (HDTV).

In 2002, J. G. N. Henderson was employed at Hitachi America, Ltd. in Princeton, New Jersey.

Search for patents issued to John Henderson.

If you have some additional information to supply on J.G.N. Henderson, feel free to submit the form below, so your comments can be added to this page.
---
Send your comments in email via the Contact page
---
Previous Image | Next Image | Who's Who | Memories | CED Magic Home