Previous Image | Next Image | Who's Who Home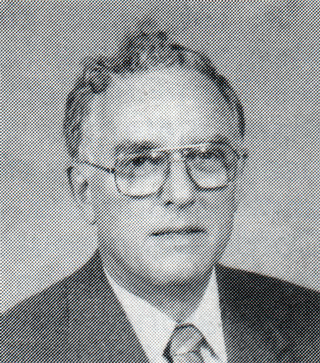 Edward C. Fox
E. C. Fox received combined bachelors and masters degrees in Electrical Engineering from MIT in 1957. In 1957 he joined RCA Laboratories where his work has included high-frequency magnetic measurements, research on a magnetic scanning head for video tape recording, disc-recording research (including the invention and development of tracing distortion cancellation for stereo records), work on television color encoding systems, and, most recently, redundancy devices for holography. Mr. Fox is a member of IEEE and the Audio Engineering Society.
- RCA 1972 Company Biography

Edward C. Fox graduated from MIT in 1957, receiving a BSEE and an MSEE degree simultaneously in the Co-Op program. His Master's thesis covered both theoretical and experimental work on an optical phonograph pickup for monaural audio disc records. The experimental work was done for Philco Corp. during one of the Co-Op program work periods. During other Co-Op assignments, he was involved in transistor circuit design and other studies connected with the Sidewinder missile. Mr. Fox joined RCA Laboratories, Princeton, NJ, as a research trainee in 1957 and, later in the same year, was appointed a Member of the Technical Staff. Since then, he has been active in automation, high-frequency magnetic measurements, video tape recording, stereo-disc recording, TV signal processing, holography, optical- and CED-disc recording, and television receiver circuitry. Most recently he has been working on the design of the RCA TR800 broadcast video tape recorder.

Mr. Fox holds six U.S. patents. He received two RCA Laboratories Outstanding Achievement Awards, one in 1963 for the system used to electronically cancel tracing distortion on the RCA Dynagroove stereo discs, and one in 1981 for his contributions to the design of the TR800 VTR. He has presented four conference papers, one of which, titled "An Electronic Delay Modulator," received the IEEE Audio and Electroacoustics Group Best Paper Award in 1965.

Mr. Fox is a member of the IEEE and a Fellow of the Audio Engineering Society.
- RCA 1986 Company Biography

Edward C. Fox passed away last September (1999). Ed and his wife Lois lived in Princeton Junction NJ where Ed had been a member of the research staff of the David Sarnoff Research Labs of the Sarnoff Corporation since 1957. Ed had a great love of music and had actively participated in his church choir.
- 2000 MIT Alumni Association Announcement

Search for patents issued to Edward Coley Fox.

If you have some additional information to supply on Ed Fox, feel free to submit the form below, so your comments can be added to this page.
---
Send your comments in email via the Contact page
---
Previous Image | Next Image | Who's Who | Memories | CED Magic Home