Previous Image | Next Image | Who's Who Home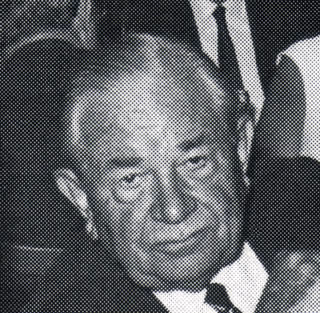 Frank M. Folsom
Frank Folsom was born in Washington state in 1894 and enlisted in the Army in 1917 for duty during World War I. Following the war he used his natural salesman skills in a variety of retail positions. In 1932 he arrived at Montgomery Ward, where he served as manager of West coast operations for about a year. In 1933 he became marketing vice president for the entire company. In 1940 Folsom joined the Chicago department store Goldblatt Bros. as executive vice president, but in July 1940, he took leave to join the National Defense Advisory Commission to help direct the procurement effort with the possibility of war looming. He returned to Goldblatt Bros. in January 1941, but when the U.S. did declare war the following December, he returned to Washington, D.C., joining the newly formed Office of Production Management.

There, as chief procurement officer for the U.S. Navy, he became well-acquainted with David Sarnoff. When Sarnoff got involved with planning for the D-Day invasion, Folsom was permitted to resign late in 1943 to join RCA as a vice president and lend his managerial skills to the corporation's war effort. After the war, Sarnoff wanted to introduce B&W television as soon as possible, and he put Frank Folsom in charge of marketing. The 630TS television was introduced in 1946 at a cost of $375.

Sarnoff and Folsom found they functioned well as a team, with Sarnoff basically setting strategy and Folsom implementing it. Folsom was elected RCA president in 1949, a position he held until 1957. During this time the major events that took place at RCA were the FCC's adoption of RCA's color TV standard, and RCA's marketing of color TV receivers starting with the CT-100 in 1954.

RCA began its ill-fated foray into the computer business with the introduction of the Bizmac in 1956. John Burns had extensive experience in this area, and he was appointed RCA president in March 1957. At that time Frank Folsom was elevated to vice chairman and chairman of the executive committee. In 1961 he retired from RCA but remained on the board of directors. He remained a director of RCA until his death on January 12, 1970 at the age of 75.

If you have some additional information to supply on Frank Folsom, feel free to submit the form below, so your comments can be added to this page.
---
Send your comments in email via the Contact page
---
Previous Image | Next Image | Who's Who | Memories | CED Magic Home