Previous Image | Next Image | Who's Who Home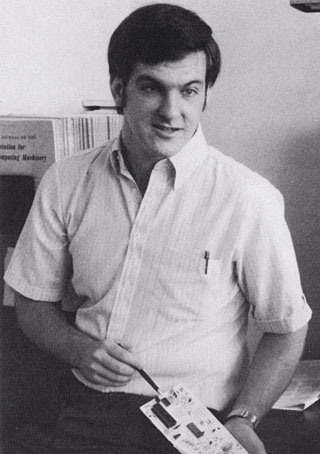 Charles B. Dieterich
Charles Dieterich, currently Member of the Technical Staff, joined the technical staff at the Princeton Labs in 1978 after completion of a Cooperative Masters Degree program with M.I.T. He has worked on flat television displays and comb filters in addition to his more recent work with VideoDisc audio and digital control systems. He holds one patent and received a 1979 RCA Laboratories Achievement Award for work on the VideoDisc player control.
- RCA 1981 Company Biography

Charlie Dieterich's 1978 Master's Thesis titled "Characterization of an Experimental Videodisc for Digital Information Storage" concerned the use of CED's for digital storage rather than analog video storage. He estimated the then 30 minutes/side discs could store 4.5 gigabits of data on one side, which when extrapolated means a 60-minute, 2-sided disc could store 2.25 Gigabytes of data, about half the capacity of a 4.7 Gigabyte DVD. Chapter 1 of Charlie's thesis provides an excellent explanation of the NTSC video system and how it is encoded on VideoDiscs. This thesis may be read online in its entirety at the Digital Library of MIT Theses.

In 2002, Charlie Dieterich continued to work at Sarnoff Corp. and was President of the David Sarnoff Radio Club.

Charlie was also responsible for the definition of the DAXI code that was embedded in the vertical interval of the video signal. The DAXI code told the control system where the stylus is in the video program. The DAXI code was used to implement the kicker circuit that performed all the scan, freeze frame and control functions. DAXI is an acronym for Digital AuXiliary Information. I was responsible for the design of the system that was used in Mastering for adding the digital code to the mastering process.
- Ted Dudziak

Search for patents issued to Charles Dieterich.

If you have some additional information to supply on Charles Dieterich, feel free to submit the form below, so your comments can be added to this page.
---
Send your comments in email via the Contact page
---
Previous Image | Next Image | Who's Who | Memories | CED Magic Home