Previous Image | Next Image | Who's Who Home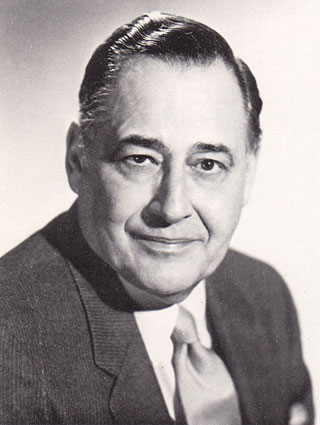 William E. Boss
William Boss, a pioneer TV marketer and trade association official, also held executive positions for Motorola, Sylvania and Admiral. Boss joined RCA in 1947 as a sales representative and was later in charge of convincing broadcasters, distributors and dealers to work together for the success of TV. He served as the director of color TV development from 1954-1962 when color TV was first launched and was responsible for stimulating color TV programming and sales. He became known as RCA's "Mr. Color TV." Boss became vice president of distributor relations for RCA's Consumer Electronics Division in the early 1970s. Boss also served as manager of RCA distributor branches in Buffalo and Rochester, N.Y., and Erie, Pa. and was sales vice president of RCA Victor Distributing Corp. He left RCA to accept a senior marketing post with Admiral in 1963, later held positions at Motorola and GTE Sylvania, before rejoining RCA in late 1972 as product management vice president He was promoted to marketing vice president in 1974. He served as a member on both the Electronic Industries Association (EIA) and the Consumer Electronics Group (CEG) Boards of Directors for 20 years. He held CEG offices of vice president and chairman, and was elected chairman of the board of EIA. Boss also was instrumental in forming the EIA Foundation, served on its board for 12 years and received EIA's Distinguished Service Award in 1979 and the National Retail Dealers Association (NARDA) Man of the Year award in 1981.
- From the 2002 CEA Hall of Fame Inductee Page.

Bill Boss and his wife Pat were among the hosts for the "Aloha Conference" held in February-March 1984 at the Kona Surf Hotel on the Big Island of Hawaii for RCA VideoDisc dealers with outstanding 1983 player sales.

If you have some additional information to supply on Bill Boss, feel free to submit the form below, so your comments can be added to this page.
---
Send your comments in email via the Contact page
---
Previous Image | Next Image | Who's Who | Memories | CED Magic Home