Previous Image | Next Image | Who's Who Home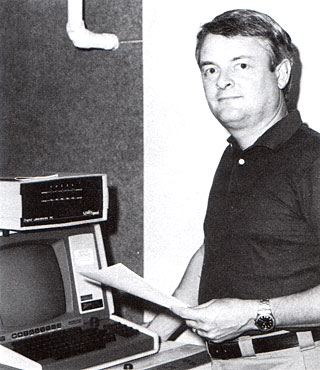 Donald P. Barton
Donald P. Barton received an M.S. Degree in Operations Research from Rutgers in 1977. He worked as a technician on BMEWS in 1961 and 1962, was a field engineer on flight simulators from 1963 to 1971, and worked as a digital design engineer from 1974 to 1980 (1978-1979 with GSD). His current interest is in information systems design and he is presently a member of the technical staff in the VideoDisc Systems Evaluation Research Group at RCA Laboratories.
- RCA 1982 Company Biography

Prior to receiving his MS in Operations Research (with a minor in systems design) from Rutgers University, Don Barton worked for nine years as a field engineer on U.S. Air Force flight simulators, mostly in Japan. After receiving his degree, he worked as a hardware design engineer in data communications and computer peripherals, and later he worked for RCA Camden on a distributed computing system. He joined RCA Laboratories in 1980, where he developed a testing information system for VideoDisc research using a database and graphics on an IBM mainframe. He joined the Information Systems Planning and Computer Services Group in 1983, and now supports scientific computing for RCA Laboratories. His primary interests are computer graphics and the use of the computer as a tool for the researcher. Don is a member of the ACM and a cofounder and Chairman of Grafuse.
- RCA 1986 Company Biography

If you have some additional information to supply on Don Barton, feel free to submit the form below, so your comments can be added to this page.
---
Send your comments in email via the Contact page
---
Previous Image | Next Image | Who's Who | Memories | CED Magic Home