Previous Image | Next Image | Who's Who Home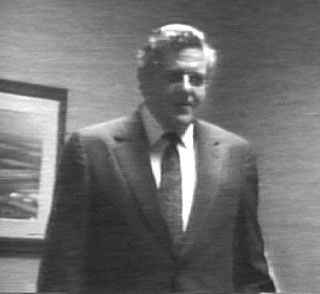 Harry Anderson
Harry Anderson became Division Vice President, VideoDisc Manufacturing and Engineering, not long before RCA announced the abandonment of the CED system in April 1984. At the time of his appointment, he announced his organization as follows:

James W. Critzer, Director, Materials

Robert K. Felter, Director, Manufacturing

David F. Hakala, Manager, Process and Material Development Engineering

Henry D. Olson, Manager, Plant Engineering and Manufacturing

John J. Prusak, Manager, Process and Equipment Development Engineering

Danne E. Smith, Manager, Product Assurance and Evaluation

Harry Anderson later became Division Vice President, Disc Operations when Jay Brandinger was promoted to Staff Vice President, Systems Engineering, Electronic Products and Technology.
---
A series of slides that appear to be of a congratulatory function for Harry Anderson begin with slide 311 from Memories of VideoDisc.

If you have some additional information to supply on Harry Anderson, feel free to submit the form below, so your comments can be added to this page.
---
Send your comments in email via the Contact page
---
Previous Image | Next Image | Who's Who | Memories | CED Magic Home