Previous Image | Next Image | Memories Home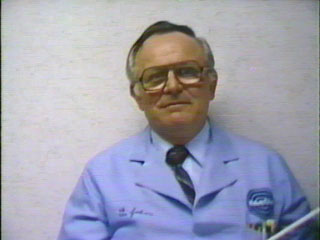 Gunter John
Gunter John joined Magnetic Products Division in 1966. In 1972 he transferred to SelectaVision VideoDisc Operations where he was responsible for the Indianapolis Electron Beam Recording and later the Electromechanical Recording effort. His present position is Manager of VideoDisc Mastering in SelectaVision VideoDisc Operations.
- RCA 1982 Company Biography

See Gunter John listed in the credits for "Memories of VideoDisc."

If you know something about who or what is shown in the above image, feel free to submit the form below, so your caption and/or comments can be added to this page.
---
Send your comments in email via the Contact page
---
Previous Image | Next Image | The Way We Were | Memories | CED Magic Home