Previous Image | Next Image | Memories Home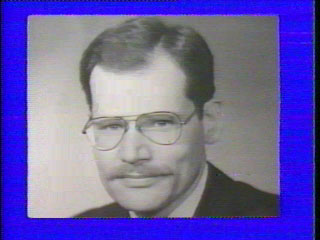 Dennis Matthies, PhD
Dennis Matthies received a B.S. degree (cum laude) from the Rensselaer Polytechnic Institute Department of Physics in 1968. His graduate education at Princeton University concentrated on device physics. He earned a M.A. degree in 1969, a M.S. degree in 1970, and a Ph.D. degree in 1973. Dr. Matthies joined RCA Laboratories in 1968 and began work on the VideoDisc project at that time. He has made contributions in the areas of conception and development of coated and carbon filled VideoDiscs, surface lubrication, stylus fabrication, product testing, and quality control.

Dr. Matthies' work has been recognized by awards for outstanding achievement in 1979 for a team effort which developed "analytical techniques and preparative procedures leading to superior surface quality of VideoDiscs" and in 1970 for contributions to a team effort in "devising and improving storage media processes for high density recording." Dr. Matthies has also made contributions to the technologies of liquid crystals, holography, electron-beam lithography, x-ray lithography, radiation damage in electronic devices, and plasma chemistry.

Dr. Matthies is a member of the Sigma Xi Honor Society, the Sigma Pi Sigma Physics Honor Society, and the Eta Kappa Nu Electrical Engineering Honor Society. He holds five United States patents.
- RCA 1982 Company Biography

Dennis Matthies played a major role in the development of the Disc component in RCA VideoDisc product. He was primarily responsible for the development of the materials and processes for making the disc. In addition, he played a lesser role in the materials and processes for mastering the discs and forming the diamond stylii. He can be reached at Tiger@alumni.princeton.edu

If you know something about who or what is shown in the above image, feel free to submit the form below, so your caption and/or comments can be added to this page.
---
Send your comments in email via the Contact page
---
Previous Image | Next Image | RCA Laboratories | Memories | CED Magic Home