Previous Image | Next Image | Memories Home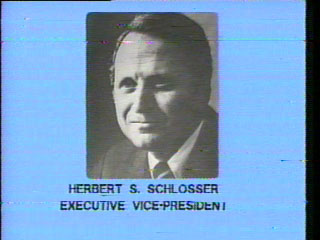 Herbert S. Schlosser
Prior to VideoDisc, Herbert Schlosser was president of NBC and in that capacity assisted NASA with the production of the Voyager Record.

Some time after VideoDisc, Herbert Schlosser was Chairman of the Board of Trustees for the American Museum of the Moving Image.

Those of us who attended Atlantic City NJ public schools with young Herbie Schlosser are thrilled but not at all surprised by his endless string of achievements. As a boy he was bright, focused, hardworking, witty, unaffected, and friendly with literally everybody. Long before he became a great person he was a very very good one.
- anonymous

If you know something about who or what is shown in the above image, feel free to submit the form below, so your caption and/or comments can be added to this page.
---
Send your comments in email via the Contact page
---
Previous Image | Next Image | The People | Memories | CED Magic Home