Previous Image | Next Image | Memories Home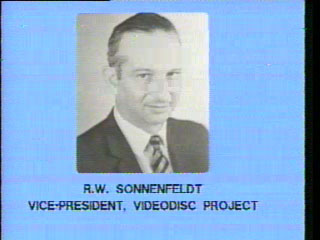 R. W. Sonnenfeldt
Richard W. Sonnenfeldt graduated cum laude from Johns Hopkins University in 1949 and immediately pursued graduate studies in electronics. Following service in World War II, Mr. Sonnenfeldt was assigned to the Office of Strategic Services and was later Chief Interpreter at the Nuremberg Trials. He began his business career with RCA, Camden, N. J. in 1949 where he rose from student engineer to Manager of Engineering and Production of RCA's Industrial Computer Systems Department.

Beginning in 1962 and the following three years, Mr. Sonnenfeldt was General Manager of Computer Systems Division of the Foxboro Co. In 1965, he was elected President and Chief Executive Officer of Digitronics Corporation, during which time he also served the company as Chairman of the Executive Committee and as a member of its Board of Directors. He rejoined RCA in August 1970 as Staff Vice President, New Business Programs.

On December 18, 1974, he was appointed Staff Vice President SelectaVision VideoDisc Operations. In this post, Mr. Sonnenfeldt assumed responsibility for the development of the Company's VideoDisc system, including marketing and programming development. He is a fellow of IEEE and a senior member of the Instrument Society of America and is also a member of Tau Beta Pi and Omicron Delta Kappa honorary fraternities.
- RCA 1978 Company Biography

A profile of Richard W. Sonnenfeldt's varied career appeared in the July 2000 issue of IEEE Spectrum.

Read the complete VIDEODISK Chapter from Richard Sonnenfeldt's Autobiography.

If you know something about who or what is shown in the above image, feel free to submit the form below, so your caption and/or comments can be added to this page.
---
Send your comments in email via the Contact page
---
Previous Image | Next Image | The People | Memories | CED Magic Home