Previous Image | Next Image | Memories Home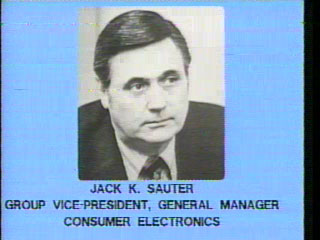 Jack K. Sauter
A native Californian (UCLA) who has settled in Maine and Florida, Jack Sauter has been a prominent figure in the consumer electronics industry for 35 years. While at RCA Consumer Electronics, Sauter served as group vice president, played a major role in the successful marketing of color television and, by committing RCA's resources to the videocassette recorder (VCR) in general, and the VHS format in particular, he was primarily responsible for that product's sales success. He joined RCA in 1950 as an advertising field representative and moved through various executive positions eventually supervising operations that generated more than $3 billion in sales. Sauter made sure consumers developed a buying interest in products featuring the newest technology. In the 1950's Sauter sparked demand for color television sets through promotions designed to get consumers into dealer's stores to view color demonstrations. In 1974, to keep sales growing despite color having already achieved a 74 percent saturation of U.S. television homes, Sauter had RCA run the industry's first nationwide "trade-in" program. The five-week program included a $2 million promotion in which dealers offered $50 to $100 for any old color set - working or not - to purchasers of its big 25-inch sets. Under Sauter's leadership RCA captured and maintained a position as the U.S. market's biggest selling brand of color televisions and VCRs.
- From the 2002 CEA Hall of Fame Inductee Page.

If you know something about who or what is shown in the above image, feel free to submit the form below, so your caption and/or comments can be added to this page.
---
Send your comments in email via the Contact page
---
Previous Image | Next Image | The People | Memories | CED Magic Home