Previous Image | Next Image | Memories Home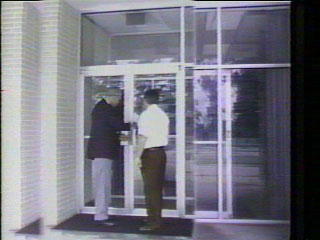 Turning Out Lights and Locking the Door!
Hank Olson, General Manager, and Jim Hubner, Maintenance Manager, are shown closing the doors for the last time, after they and the last employees left the Rockville Road facility. This irreverent sequence was intended to signify the end ... "turning out the lights and locking the door"... for RCA VideoDisc!
- Bob Huck

See Hank Olson listed in the credits for "Memories of VideoDisc."

If you know something about who or what is shown in the above image, feel free to submit the form below, so your caption and/or comments can be added to this page.
---
Send your comments in email via the Contact page
---
Previous Image | Next Image | The Final Days | Memories | CED Magic Home