Previous Image | Next Image | Memories Home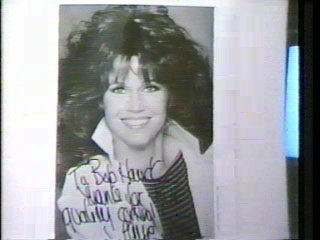 Jane Fonda Autographed Photo to Bob Huck
See Bob Huck in "Who's Who in RCA VideoDisc"

Jane Fonda's Workout Videos were produced in Hollywood by Post Productions, Inc. which later became Galanty Productions. Sid Galanty was the executive producer of her videos and was instrumental in having this photograph autographed.
- Bob Huck

If you know something about who or what is shown in the above image, feel free to submit the form below, so your caption and/or comments can be added to this page.
---
Send your comments in email via the Contact page
---
Previous Image | Next Image | Employee Awards | Memories | CED Magic Home