Previous Image | Next Image | ROTK CED Page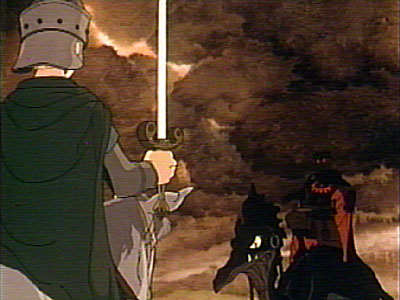 Dernhelm Stands Against the Lord of the Nazgul
Only Dernhelm stands to defend fallen King Theoden against the Lord of the Nazgul (Side 2, 26:09).
"'Come not between the Nazgul and his prey! Or he will slay thee in thy turn.
He will bear thee away to the houses of lamentation, beyond all darkness,
where thy flesh shall be devoured and thy shrivelled mind be left naked to
the Lidless Eye.'
A sword rang as it was drawn. 'Do what you will; but I will hinder it, if I may.'
'Hinder me? Thou fool. No living man may hinder me!'"
- LOTR Book V: The Battle of the Pelennor Fields
Previous Image | Next Image | ROTK CED Page | CED Magic Home